Indigenous collaboration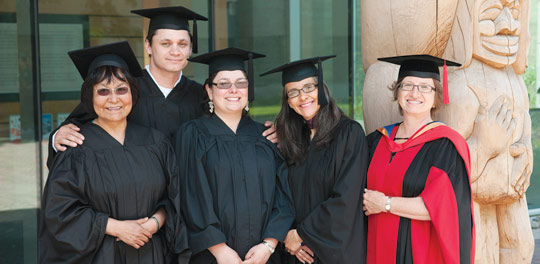 Indigenous initiatives and collaboration
Situated on traditional Coast and Straits Salish territory, the University of Victoria is recognized for its commitment to and expertise in innovative programs and initiatives that support Indigenous students and communities.
UVic offers a growing range of courses and programs that reflect the cultural and historical perspectives of Indigenous people. We have a wide range of researchers and scholars with Indigenous focus.
At UVic we recognize the special role the university can play in relation to Canada's Indigenous peoples. We continue to build on our commitment to—and our greatly valued relationship with—Indigenous communities.
It is our goal to be the university of choice for Indigenous students, faculty and staff. One of the objectives in our Strategic Plan is to increase the number of Indigenous students graduating from all faculties at UVic, building on our commitment to and our unique relationship with Canada's First Peoples.
Contact the Community Engagement Manager in the Office of Indigenous Academic and Community Engagement to learn more.
More Indigenous initiatives