Phoenix Theatre (PNX)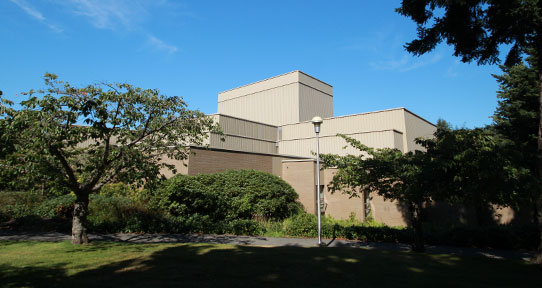 The Phoenix Theatre is home to UVic's theatre department. Built in 1981, the building is designed around three diverse theatrical spaces: The Chief Dan George theatre (a 194-seat thrust theatre), the Roger Bishop theatre (a more traditional 208-seat proscenium theatre) and the Barbara McIntyre theatre (a flexible studio space). Also housed in the Phoenix are all the requisite facilities for theatre production: costume shop and storage, set and properties shop, rehearsal space and dressing rooms.

Barbara McIntyre (1916 - 2005) joined the UVic faculty in 1971 as a recognized expert on theatre and education. She served as professor and chair of the department throughout the 1970's. McIntyre retired in 1983 but remained active with the UVic Alumni Association and the local arts community.
Chief Dan George (1899 - 1981) was chief of the Salish Band in Burrard Inlet, BC. He became Canada's most distinguished indigenous actor, starring in films such as Little Big Man (1970). He was also a stage actor, longshoreman, musician, lecturer and poet.

Roger J. Bishop (left) served Victoria College and the University of Victoria from 1945 to 1971. A longtime member of the English department, his efforts led to the establishment of the theatre division.