Fraser Building (FRA)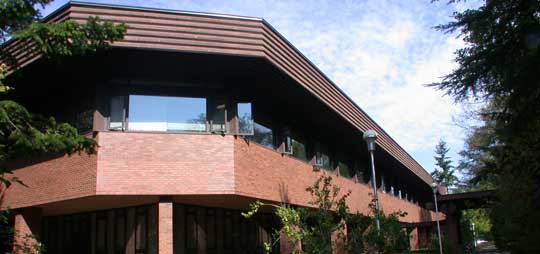 Formerly: the Begbie Building (BGB)
The Murray and Anne Fraser Building is home to the Faculty of Law. Built in 1980, the building houses classrooms, seminar rooms, moot court and the Diana M. Priestly Law Library.

Murray Fraser (1937-1997) was UVic's founding law dean. He came to UVic in 1974 and opened the law school one year later. Fraser was appointed UVic's vice-president academic in 1983 and held the post until 1988.
Murray's wife Anne was a nationally syndicated CBC radio commentator and helped spearhead an effort to preserve Halifax's historic waterfront buildings. At UVic, she developed innovative continuing studies courses.

The Diana M. Priestly Law Library is named for Diana Priestly (1922-1997), one of the first appointees to the UVic Faculty of Law. As professor and founding librarian, she established the criteria for the law library. When she retired in 1987, the UVic law library held one of Canada's major collections of legal materials. Today, the library has acess to online resources that makes the university digitally comparable to the largest Canadian and US law schools.