Craigdarroch Office Building and Guest House (CRA)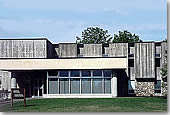 The Craigdarroch Office Building houses Residence Services.
The Craigdarroch Guest House offers seven well-appointed guest suites for visitors, operated by Residence Services.
The guest house and office building are named for Craigdarroch Castle, the former Robert Dunsmuir mansion in Victoria's Rockland neighborhood, which was home to UVic's predecessor institution, Victoria College, from 1921-1946.