Why choose UVic for your graduate studies?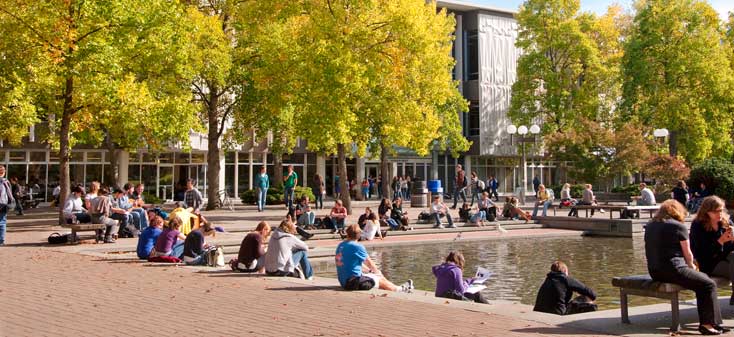 Thinking at a higher level
On any given day, open our doors—to UVic classrooms, research centres, performance studios—and be prepared for excellence on the other side.
Graduate education at UVic offers a rare chance to create and mobilize new knowledge and to work side-by-side with scholars and practitioners on initiatives that may be unique in the world. Deepen your undergraduate research and learning, further your academic path or take your studies in an entirely new direction.
Graduate school can expand your professional qualifications, provide an avenue to more rewarding career options and bolster your earning power. Research and innovation demand the kinds of expertise that can only be gained from an advanced education.
Discover the reasons UVic may be a fit for you.
UVic consistently ranks amongst the top three comprehensive university in Canada in the university rankings by MacLean's Magazine.  
UVic is among the top 20 universities in the world under the age of 50 and first in Canada in the Timer Higher Education's 100-under-50 rankings.See our media release.
For the 11th consecutive year, UVic was named a "Research University of the Year' in Canada by Research Infosource. In the 2010 decade-in-review summary of Canada's research universities, UVic outscored all other comprehensive universities in two out of three measures of research performance from 1999-2009.
See more

UVic

rankings

highlights

.
Our vision is to be the university of choice for exceptional students, faculty and staff who are driven by a desire to improve their world. Learn about the University of Victoria's programs, research, honours and awards in facts and figures about UVic.
The following publications provide pathways to information for specific graduate student audiences. In addition, find out if your academic unit offers a graduate handbook that highlights the information most relevant to you.
Graduate Student Viewbook
Our Graduate Student Viewbook provides an introduction to graduate studies at UVic. Created with prospective graduate students in mind, this publication features student profiles, financial information, campus supports for grads and the primary steps in the application process.
Individual Interdisciplinary Program Handbook
The Individual Interdisciplinary Program Handbook describes a unique program offering graduate students the opportunity to work across domains of knowledge. Those interested should review our specialized degree applicant information carefully, since application processes differ from those of other programs.
Indigenous Students
The former handbook has been replaced by a web page providing an overview of programs, research, services and community partnerships that may be of particular interest to Indigenous students.
International Student Pre-Arrival Guide
Our International Student Pre-Arrival Guide includes information for graduate and undergraduate students about everything from immigration to health insurance, as well as the basics regarding course registration, finances and accommodation.