Q&A with RRLC member Patricia Collins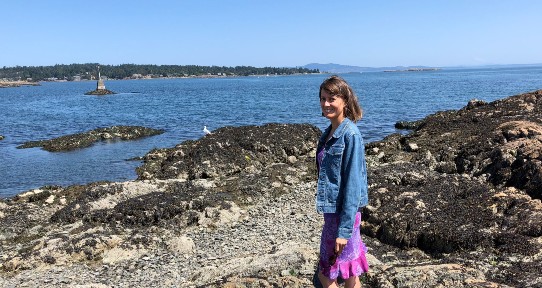 Patricia Collins (BSc '97, Cert '02, MSc '10) is an alumna, donor and member of the Ring Road Loyalty Circle. She lives in Fort McMurray and works as an instructor at Keyano College. We asked her a few questions about her support for UVic over the years and her recent donation to the Research Accelerator Fund.
You have strong ties with Victoria and the university. Can you tell us about them?
I lived in Victoria until I was eleven, when my family moved to Alberta. But I knew I wanted to return, so UVic was my first choice for university. I did a BSc here, majoring in Chemistry. Then I returned to do a post-graduate teaching diploma. And again in my thirties to complete a Master's in Earth and Ocean Sciences with Dr. Jay Cullen.
During my time(s) at UVic I had some phenomenal professors who just loved what they do and managed to convey that to us as students. I can't think of any course I didn't enjoy and I got so much out of my time there. I was also a teaching assistant in the chemistry department. I got such good training for that, which I still draw on now in my role as an instructor at Keyano College.
I also have some family and friends in Victoria, so I visit often and owned a condo there for some time. I love to come to campus, walk around Finnerty Gardens and check out new buildings. I often run into one of my former professors or fellow students who now work there.
You have been giving to UVic regularly for over a decade and are a Ring Road Loyalty Circle Member. Which areas of the university do you support and why? 
For me, it's about paying forward what I received. Within my first month at UVic I was offered a massive scholarship. That was really what enabled me to focus on my rigorous chemistry program and get it done in four years. I didn't have to work full time. I didn't have to do the juggling act. I never forgot how important that was and I thought, as soon as I have the means, I need to do my bit.
Over the years my gifts have a little bit all over the map. It sort of changes and evolves with what I am pulled towards that particular year. So I've supported student awards and the Indigenous Revitalization Language program, science and engineering outreach programs, and also the Centre for Outreach Education (CORE). I really liked contributing to that one because it benefits UVic students and kids from local schools—the double-whammy effect.
You made a generous contribution to the Research Accelerator Fund. Can you remember what prompted you to make that donation?
Yes, I remember the exact day I got that email. I was sitting with a Starbucks on a rock at Cadboro beach and it was gorgeous day. I had to sell my condo in Victoria because I had to take a pay cut and could no longer sustain the annual costs. I'd spent several weeks in the process of selling and packing up. That day my car was packed full and I was killing time while the condo was being cleaned.
So basically, I was "having a day". I was feeling some relief but also feeling very sad. And that email came at a moment where I felt like I needed to have a parting moment with UVic, but also needing to acknowledge the pain I was feeling because COVID had upended my life.
And then there's an email that's showing me a way that maybe I could help it end. If I could give some money to our people, who I know are doing fantastic research, maybe I could help bring this to a close quicker so there's less suffering—be it physical, financial and emotional. I just thought "I'd like this to end", and I made the donation.
Was that the first time you considered supporting research at UVic?
That was the first time I ever considered that I could put some funds into research. Before I started my master's, I had no idea how much work and time researchers spend on writing grant proposals. So the Research Accelerator Fund made a lot of sense to me. You pool resources from a whole bunch of sources and then you provide that base to get people started and then they have a clearer path and some results for getting the longer-term funding.
Unfortunately, there's a perception that universities do "pie in the sky" stuff. I think if the broader public understood it more, there would be a lot more support for research at universities.
What was it like to read about the first round of funding awarded from the RAF?
It was really neat to see the fruits of all these funds that have come in. We're seeing, in only a few months, that there have been some leaps and bounds and some important things done.
The range of projects was surprising to me but it made a lot of sense, because we need to understand the impacts (of the pandemic) from a social, psychological, socio-economic perspective. There's more than just "let's try to stop this virus". And so that was eye-opening to think that this can be applied to things like mental health, and other broader effects, and I like that.
I find that people at UVic think out of the box. The people there do create something unique. It's nice to have done my academics in that environment. And it's really good to continue to be a part of it—to see what is going on and who is doing what.
Many thanks to Patricia for her generous donation to the Research Accelerator Fund and for her continuous support through the years.