Madeleine Stanley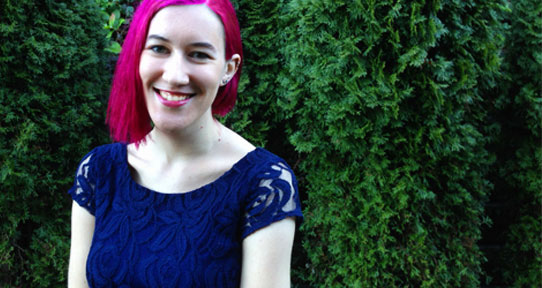 Candis Graham Award in Writing
Most students have a financial strategy to get through their expensive four or five years of university life. Madeleine Stanley planned on using a combination of savings, loans, RESPs, and summer work to fund her fine arts degree. That was until last summer, when a surprise injury took work right out of the equation.
Challenging the norm
Madeleine started writing creatively in elementary school, filling endless notebooks and floppy disks with stories. Over the past two years she's been honing her craft and finding her voice through the writing program at UVic.
Last spring, Madeleine learned about the Candis Graham Writing Scholarship. At the time, she didn't know how badly she would need the scholarship, but hoped she would have a good chance of winning the award based on the strength of her writing and involvement in the LGBT2IAQ+* community.
Growing up, Madeleine sought out books that portrayed a protagonist she could relate to. "I devoured thousands of books in my childhood, and in devouring them I subconsciously absorbed the message that heterosexuality was 'normal', or the only option," she says. Frustrated that authors and publishers continue to focus on this tiny slice of the broad spectrum of sexual identity, Madeleine wants to represent diversity in her fiction. "Why would I write more heterosexual books when I know how few books offer anything else?" she asks.
An injury takes work out of the equation
This summer, Madeleine took on a full-time job, but one month in she developed a shoulder injury that got progressively worse. Eventually her physio told her she wouldn't heal unless she stopped working completely.
"I had a mini melt-down when I realised I had to quit my job," says Madeleine. "I wanted to get better for the fall semester, but I was banking on that money to pay for tuition." Just when she was feeling pretty hopeless, she found out she'd won the scholarship. "After that, things started to turn around for me. It felt like the universe was telling me that everything was going to be ok."
Time to recover, and write
Madeleine recovered enough to take on five courses the following semester. Her summer wasn't entirely wasted either. She used her recovery time to work on a novel that features a bisexual protagonist. It seems the universe, or more specifically the many donors who contributed to the Candis Graham Award, are helping her reach her writing goals.
"I have the ability to tell stories and I know which stories need to be told. Using my education to write anything but LGBT content would be a missed opportunity on my part."
*This term includes, but is not limited to, anyone who identifies as lesbian, gay, bisexual, transgender, two-spirit, intersex, asexual, queer, or questioning.