Priority areas for support - Fall 2021
The following student stories highlight how donations to three priority funds are making a difference for diverse communities across UVic.
Student Bursary Fund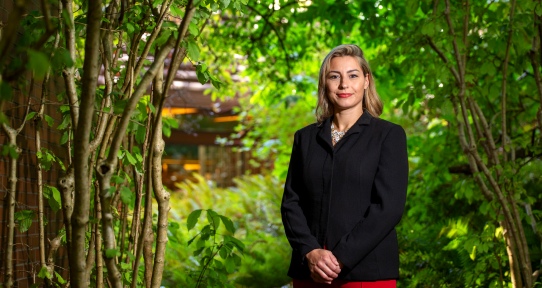 UVic student Catherine Lafferty never imagined she would go to university. As a young single mother living in the North, it simply didn't seem like an option that was available to her. However, after getting a job with the Yellowknife Dene First Nation, her motivation to create change for herself and her fellow community members grew.
In 2019, Catherine was accepted into the UVic Indigenous Laws program. It was the opportunity of a lifetime. And it was a bursary that gave her the freedom to pursue this dream.
Receiving a bursary gave me a sense of security in knowing that I'd be able to last in my program, in knowing that I had support. Coming from the North and leaving everything behind—it's a big barrier. I'm just really thankful to the people who make bursaries possible. When you help me, I can help my children. I can help my community, which is watching me, rooting for me. Now, there are children in my community who want to be lawyers, too. Their parents ask if I will talk to them. I can make a difference for those kids." - Catherine Lafferty, JD/JID Joint Degree Program in Canadian Common Law and Indigenous Legal Orders
International student support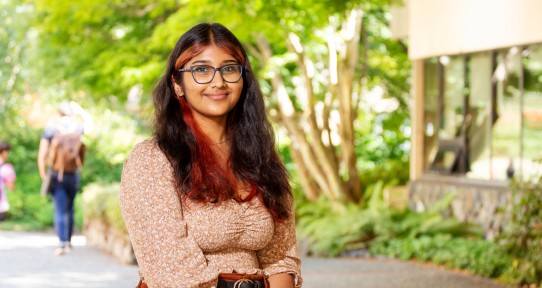 Sending a student to UVic from overseas can be a huge stretch of resources for many families. While these students aren't usually eligible for general bursaries, there are a few specific supports for international students. These supports help bring diversity and talent to the university and create an inclusive learning environment.
Smriti Garg, now in her third year studying psychology and biology, discovered that receiving an award can mean more than just financial support—it can be a big boost during tough times.
Settling into UVic, in an entirely different country and culture, away from my loved ones, was a challenge. I felt out of place. I still think about the day I found out that I was the recipient of an international entrance scholarship. I was shocked, and for a second I thought the email wasn't meant for me. 
The award helped me understand that I am worth something big and that I have to work really hard to achieve my dreams. It also made me see how a little help and support from others can have such a big impact on your life. Getting the scholarship made me much more determined and confident that I could succeed. I hope some day I will be able to help others in the same way." - Smriti Garg, Psychology and Biology
The 
ITOTELNEW̱TEL ȽTE: LEARNING FROM ONE ANOTHER Fund (E

lders engagement fund)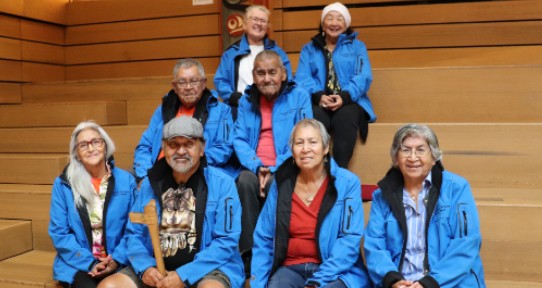 Involving Indigenous Elders in activities on campus and incorporating their knowledge into university learning is a small but urgent step on the journey to understanding and reconciliation. The ITOTELNEW̱TEL ȽTE: LEARNING FROM ONE ANOTHER Fund (Elders engagement fund) provides opportunities for students, faculty and staff to have meaningful engagement with Elders and learn about Indigenous ways of knowing.
Madeline Burns reflects on her own experience of having Elders visit her class:
Having Elders from local nations share their knowledge and teachings is incredible. It gives us the chance to reflect on whose lands we truly reside, how these relations are ongoing, and the importance of unsettling and decolonizing western education institutions. It is humbling and deeply personal to hear from Elders directly. There is a large difference between learning about Indigenous peoples, communities, and elders, versus learning from them." - Madeline Burns, Political Science and Gender Studies