Advice for parents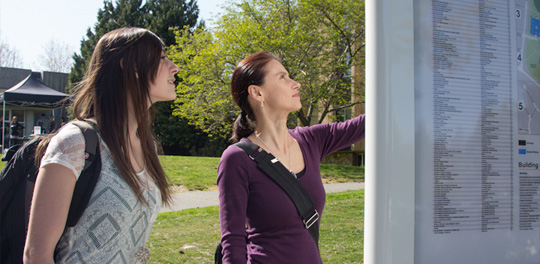 Though no longer under your roof, your child is in good hands.
As other parents will attest, this is a place where students can come into their own while belonging to a supportive, caring and welcoming university community.
Discuss finances. Make sure you're clear about expectations, including who will pay for what. The Financial Aid office can help you with strategies for balancing the budget.
Pass on your life skills by providing your child with tips on how to handle new responsibilities.
Encourage involvement by talking with your son or daughter about opportunities to engage in campus life.
Help your son or daughter to maintain a positive connection to family and home.
Become familiar with on-campus support systems like Student Transition Services. That way you'll know what to recommend.
Q: How safe is my child going to be at UVic?
A: Your son or daughter's safety is very important to us. Campus Security provides a SafeWalk program, and there are 12 free direct dial phones around campus so students can call security anytime. Make sure your son or daughter signs up to receive Emergency Alerts in case of a campus-wide emergency.
Q: Where do parents stay when they visit??
A: Parents are welcome to visit throughout the academic term and stay in a Craigdarroch House hotel suite. If you'd rather stay off campus, there are many accommodation choices nearby. If you visit from May to August, you'll have a chance to stay in on-campus residence housing.
Q: Is there visitor parking on campus?
A: Yes. If you're just here for an hour or two, we have parking meters in most lots. Day permits and hourly parking are available from dispensers at a rate of $1/hour to a maximum of $6/day. For more information and maps see our parking information page.
Q: Will my son or daughter need a car to get around?
A: It's up to them. UVic's campus is the perfect size and a walk across campus takes just 10 minutes. Most students enjoy walking or biking to school and all students are eligible for discounted bus passes.
Q: Is there parking if my student brings a car?
A: Yes. Students living on campus may purchase a gold General Parking permit for exclusive parking close to the residences. These permits are not valid in other lots. Students living off campus may purchase a General Parking permit.
Q: Can you help us find an apartment or roommate?
A: UVic Housing offers listings service for off-campus housing. You can also find or advertise for a roommate there.
Q: Do you offer career counselling?
A: Yes. Counselling Services offers career counselling, workshops, resources, and online career assessments. Career Services is also there to help them find work and explore career options.
Q: What types of academic advising are there?
A: Our academic advisers are available to help students select courses and find the most suitable program. Each faculty also offers advising. Contact the adviser for your student's program or check the Calendar for a list of courses for every program. Individual professors are also available during their office hours.
Q: How are transfer students integrated into the student population?
A: Student Transition Services hosts a wide range of on-campus events to help transfer students feel welcome. Their programs range from Orientation programs to workshops that prepare students life after graduation. They also offer parent orientation days.
Q: What emotional support will my son or daughter have at UVic?
A: Counselling Services not only offers individual and group counselling, but also runs Learning Skills Programs. Your student can find support through UVic's Peer Helping program, which is run by student volunteers. There's also an Interfaith Chaplaincy on campus.
Q: What about my student's physical health?
A: Health Services offers everything from emergency treatment to birth control advice and flu shots. It's staffed by doctors and nurses and available to all UVic students with medical insurance. To keep students healthy, Food Services offers healthy choices, and Athletics and Recreation programs will keep them active.
Q: What should my son or daughter pack for moving into residence?
A: Just personal belongings; leave the furniture up to us. Each residence room includes a bed, linens, a desk and desk lamp, a wardrobe and a chair. There are also centrally located washrooms, coin-operated laundry machines, a television and payphones. The Housing Handbook has some great ideas on what to bring to make their room feel like home.