Sustainability
At the University of Victoria, we strive to model sustainability—applying ingenuity to find new and creative solutions and practices that can serve as examples for others.
The 2012 UVic Strategic Plan, A Vision for the Future: Building on Excellence, calls for the establishment of a formal framework to manage the university's physical and financial resources in a sustainable manner; that is, with attention paid to the "triple bottom line" of economic, social, and environmental consequences.
Sustainability website
Our sustainability website is designed to be a hub for sustainability-related information on the UVic campus.
We invite you to explore our green initiatives.
Connect with student groups, learn tips to reduce your impact, and find out how you can get involved.
UVic achieves STARS Gold sustainability rating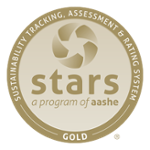 UVic has officially received a Gold rating in the Sustainability, Tracking, Assessment & Rating System (STARS), administered by the Association for the Advancement of Sustainability in Higher Education (AASHE). UVic is only the 5th Canadian post-secondary institution to achieve a gold rating under the STARS system, and the first using the updated 2.0 version of the program.
Read the media tip and get the full report.
Sustainability reports and documents