Connie Gitlin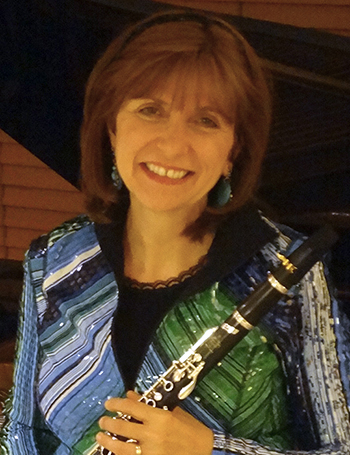 Position
Music Performance Instructor
Clarinet, Woodwind Chamber Music
Contact
Credentials
BMus (Cincinnati), Graduate Studies (Northwestern University)
Area of expertise
Clarinet, Woodwind Chamber Music
Areas of research and creative activity
Connie Gitlin continues to perform as principal clarinet with the Manitoba Chamber Orchestra, a position she has held since 1984. An avid performer of both chamber music and new music, Professor Gitlin has been a guest performer on numerous chamber music series both in Winnipeg and Vancouver. Most recently, Professor Gitlin has added the rich folkloric tradition of the clarinet Klezmer music to her repertoire. In 2020 she is scheduled to perform the world premiere of a new work for clarinet and orchestra by Randolph Peters commissioned for her by the Manitoba Chamber Orchestra.
Courses
MUS 140/145-440/445: Clarinet Instruction
MUS 181-481: Chamber Music
MUS 332: Woodwind methods
Brief biography
Principal clarinet with the Manitoba Chamber Orchestra since 1984, Connie Gitlin served that same role with the Winnipeg Symphony Orchestra (1984-1996), Santa Fe Opera Orchestra (1995), Canadian Chamber Orchestra and Colorado Philharmonic. As a soloist, Gitlin has performed numerous times with the Winnipeg Symphony, Manitoba Chamber Orchestra and Musique Baroque Orchestra performing the works of Mozart, Rossini, Weber, Copland and Molter among others. Her solo recitals include appearances as an invited guest artist at the International Clarinet Congress both in Vancouver, BC and Cincinnati, Ohio and she performed recital works at the Einov Cultural Center in Tel Aviv in collaboration with musicians of the Israel Philharmonic. Professor Gitlin has previously served as Instructor of Clarinet at the Faculties of Music at the University of Manitoba, Brandon University and St. James Music Academy as well as maintaining a private teaching studio. Her teachers include Robert Marcellus, Larry Combs and Leon Russianoff. She is also a three-time recipient of Canada Council for the Arts grants.
Selected publications
International Clarinet Congress. Guest soloist Vancouver, BC 2007; Cincinnati, Ohio, 1992                                  

Winnipeg Symphony Orchestra. Soloist 1986-1996: Mozart, Clarinet Concerto; Rossini, Introduction, Theme and Variations; Bernstein, Prelude Fugue and Riffs; Colgrass, Delta Concerto for Clarinet, Violin and Percussion; Copland, Clarinet Concerto

Manitoba Chamber Orchestra. Soloist: Mozart, Clarinet Concerto, May, 2011; Weber, Concertino.

Musique Baroque (Winnipeg). Molter, Concerto in D, October, 1996.

Einov Cultural Center (Tel Aviv). Solo and chamber music recital in collaboration with musicians of the Israel Philharmonic, February, 2005.
Selected recordings
Manitoba Chamber Orchestra (2013) Troubadour and the Nightingale. Isabel Bayrakdarian, soprano; Ann Mason, conductor

Song of Songs (Shir Hashireem) for mezzo soprano, guitar and clarinet (2008)
Sefarad, featuring the music of Sid Robinovitch received both a Juno and Western Canadian Music Award nomination for classical recording of the year