What we offer

Programs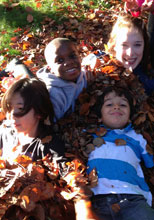 Early Learning: Josephine Tepsi an early childhood educator, facilitates our morning play based program 'Early Learning'. The program is geared to children five and under. There are typically engaging activities in the main room along with free play in the toy room.
Learn and Share: During one of the mornings we host a drop-in program for families to interact and learn from one another. There will be a designated focus topic and guest facilitator.
Community Food Market: Every other Monday the Night Food Market happens from 6:00 pm-6:45 pm. Food available at no cost to students and student families of UVic. 
Special Events: Throughout the year we hold pot-luck suppers, pancake breakfasts and celebrations. Typically there's an end-of-summer potluck, a Harvest celebration, a Winter celebration and a big party in April to celebrate the end of the academic year. These are simply about getting together and having fun.
Offering opportunities for students in their learning through practica, research and volunteering.
Family supports
Clothing Exchange: Every season the Family Centre will host a clothing exchange night where families can bring gentle used clothes and exchange with other families. At the end of the night if a family chooses to donate their clothes the family centre we will donate them on their behalf. 
Food Bank: There is a food bank located in the Student Union Building.
Book Library and Toy Library: There are a selection of books and toys available for loan.
If you have questions about fun places to visit, finding childcare, local schools, health care, parenting issues or other concerns relating to your family, please feel free to drop by and ask a member of staff.
Monday
Tuesday
Wednesday
Thursday
Friday
Weekly Hours
  
Morning
Activities

Early Learning Drop In

9:00 am-12:00 pm

Early Learning Drop In

9:00 am-12:00 pm

Early Learning Drop In

9:00 am-12:00 pm

Early Learning Drop In

9:00 am -12:00 pm

Afternoon
Activities

 

 

Conversation Club

12:30 pm-2:30 pm

 

Evening
Activities

Night Food Market (ever other Monday)

6:00 pm-6:45 pm

Conversation Club 

6:30 pm-7:30 pm