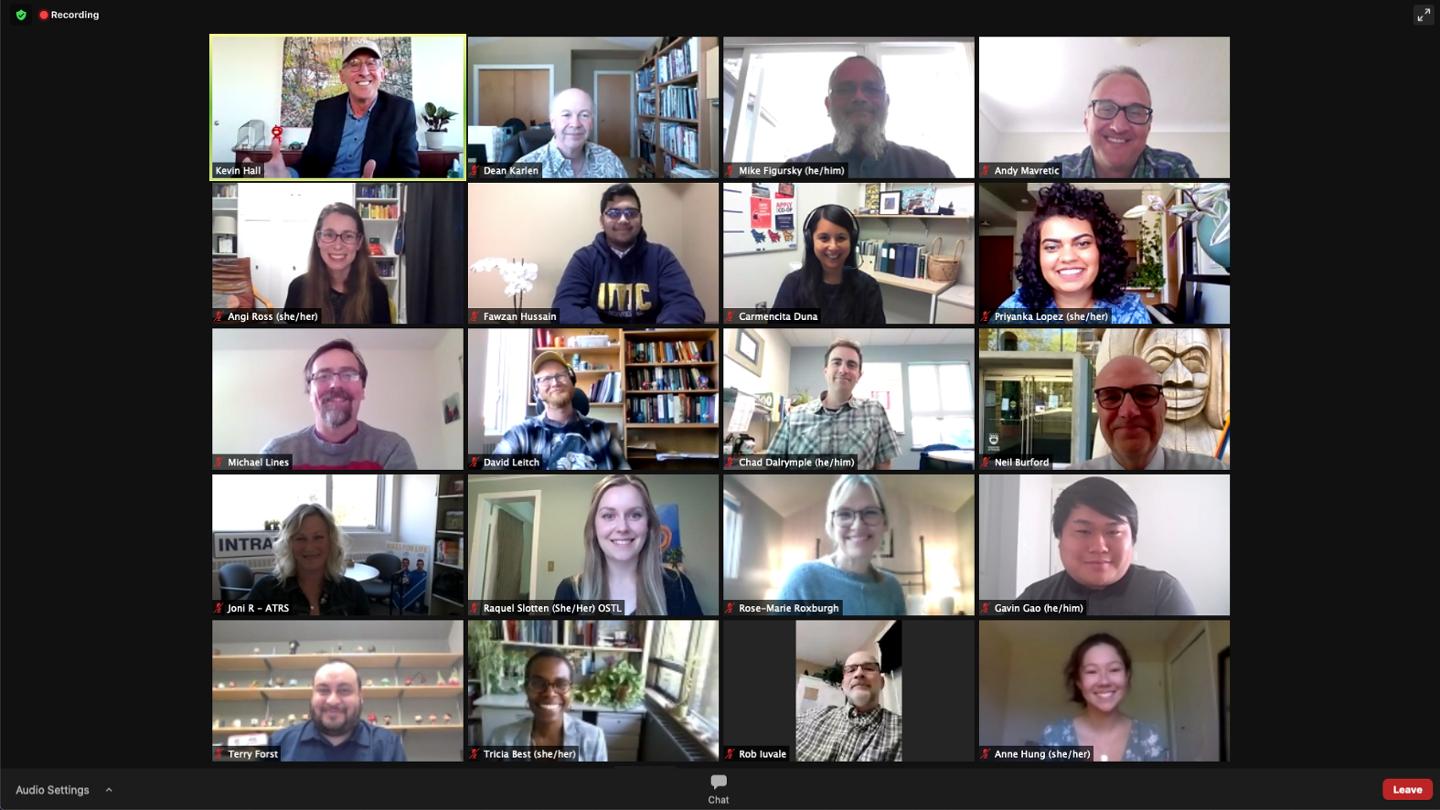 Campus Kudos celebrates and acknowledges the achievements and accomplishments of our talented and hard-working faculty, staff, and students.
President Kevin Hall will recognize the people receiving Campus Kudos at informal celebration events throughout the academic year.
Kudos are shared with our campus community so we can all learn more about the great things happening at UVic and the people that make up this institution. 
The next event will be held October 21, 2021.
Nominations
The UVic community is made up of people and groups doing amazing things every day to make a difference in our world and on our campus. We want to celebrate the many kinds of contributions—small or large, visible or unseen—that make UVic a great place to work and study.
Please nominate faculty, staff and students who have:

Made a significant contribution to the campus community, and/or to the wider community. 
Have received significant external awards for scholarship, learning, teaching, research or community contributions.
There is a very simple nomination process:
Please fill out the

Campus Kudos

form to let President Hall know about current faculty, staff members, or students who are making significant contributions on campus or in the wider community. 
You can submit a nomination whenever you identify someone who you think deserves kudos—deadlines for upcoming events will be published in the Campus Checklist.
Nominations for the next event are due October 6.
Recipients
Campus Kudos — May 2021
President Hall recognized these amazing students, staff and faculty at the first Campus Kudos event on May 20, 2021.
Neil Burford — Acting Associate Dean Academic, Faculty of Science & Professor, Department of Chemistry
a long career of service, leadership and mentorship in his department and faculty, at UVic and across the scientific community
Mike Figursky — Manager, Production Services, Farquhar Auditorium
research and leadership in developing safe work plans that allowed the Farquhar to continue to serve the School of Music and host the Victoria Symphony's virtual season
Anne Hung — English student
led a team of multi-year students to develop a peer mentorship project for over 80 incoming students who wouldn't be able to meet other students during COVID-19
Fawzan Hussain — Engineering student
first-year engineering student who used 3D printers to create and deliver 1,545 pieces of personal protective equipment to over 30 organizations across B.C. during the pandemic. Fawzan received the BC Medal of Good Citizenship!
International Student Services Team — Tricia Best and Carmencita Duna
provided welcome, supports and community to international students during the pandemic through self-isolation assistance, virtual engagement and peer-to-peer connection programs
Rob Iuvalé — Supervisor, Science Stores, Faculty of Science
supporting his team while helping to keep lab research going during COVID-19
Dean Karlen — Professor, Department of Physics and Astronomy
developing a new, highly successful, statistical model for COVID-19 epidemiology
David Leitch — Assistant Professor, Department of Chemistry
organized a team to produce hundreds of litres of Health Canada approved hand sanitizer that was donated to local hospitals
Michael Lines — Learning and Research Librarian, UVic Libraries
making connections between local schools and the university since 2014 with his Bookbinding for Kids workshops
Andy Mavretic — Director, Occupational Health, Safety & Environment, Human Resources
coordinating the creation and implementation of the over 700 safe work plans that have kept us safe working on campus during COVID-19
Office of Student Life Team — Priyanka Lopez, Gavin Gao, Raquel Slotten, Angi Ross
developed the New Student Connect Program that provided an online university community to over 3,000 first-year students from all over the world
Residence Services Team — Kathryn McLeod, Chad Dalrymple, Rose Marie Roxburgh, Terry Forst
responsible for bringing 840 first-year students to live on campus this year and supporting their student experience with innovative and safe student life programming
Joni Richardson — Programmer, Intramurals & Outdoor Recreation, VIKES Athletics
instrumental in developing an approach to virtual esports/video gaming participation that is now taking seed with other institutions and grabbing hold in the rest of Canada