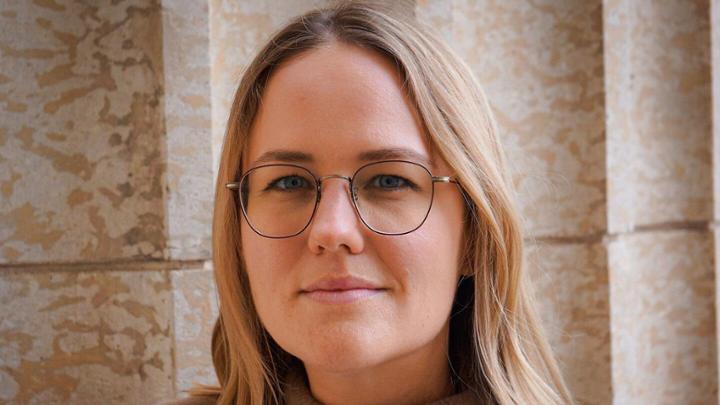 Category: Emerging Alumni Award
UVic degree: Law Juris Doctor, 2013       
Current hometown: Winnipeg, MB                                   
Birthplace: Mississauga, ON
About Debra
Debra Danco is a senior associate counsel in the legal department of the Canadian Centre for Child Protection in Winnipeg, MB, where she's dedicated her legal career to tackling online child sexual exploitation. She joined the Centre as an articling student in 2013, after completing her law studies at UVic.
Prior to law school, Debra obtained a Bachelor of Commerce degree from the University of Alberta. She is active in the Manitoba Bar Association's Legal Research Section and Women Lawyer's Forum. She also served as treasurer and chair of Winnipeg-based S.H.A.D.E. (Save Housing and Directed Empowerment), which provides empowering, community-based programming for newcomer women experiencing intimate partner or family violence.
She was also treasurer for the Grace & Nelly Project, which focuses on reducing poverty in rural communities in Zimbabwe through empowering women and girls. In 2021, she was awarded the Premier's Volunteer Award.
What's your favourite memory of being a UVic student?
I have a very strong impression of my first day because everyone was so welcoming. That includes all the profs and my fellow classmates. There was such a community feeling. But other than that, I remember very clearly walking out of the Fraser building on a rainy fall day, and there were all of these massive maple leaves, like the size of my head, just scattered everywhere on the ground. And I actually took one home and pressed it. It made me feel so grounded and it was also very much a full circle moment for me because I had dreamed of going to UVic as a kid.
How did your experiences at UVic shape who you are or contribute to future successes?
It really helped me to believe that anything is possible and that you can find your own unique path in life, and that that's a valid and valuable thing to do. This outlook is an asset to me to this day, and it's this openness I learned at UVic that also helps me appreciate the views of others, because I learned that there are many different ways to approach life.
What accomplishment are you most proud of?
That would be my current job at the Canadian Centre for Child Protection. I feel very proud to be working at an organization that fights for children in Canada and around the world. I've always wanted to do something with my career to help people have as equal of a starting point in life as possible so that they feel empowered to pursue their dreams. And that's why I wanted to work for an organization that looks out for children in their best interests because that sense of believing in yourself really starts in childhood.
What traits or characteristics are needed to be good at what you do?
The skills that are important for me as a lawyer are actively listening and showing determination, especially when it comes to solving problems. In general, communication, the ability to admit when you don't know something and to ask for help is really important in this profession.
What's the best advice someone has given you?
Don't be the one to tell yourself no. I think about that advice daily because it helps me overcome the fear of rejection that so many of us have, and it helps me do things that scare me. It's like that idea that you miss 100 per cent of the shots that you don't take. It's better to try and let others tell you no than to stand in your own way.
What's your advice to a younger person who's uncertain about their future?
Be proud of yourself. Celebrate your accomplishments and your strengths, and know that you are capable of anything. At the same time don't be afraid to fail and make mistakes. We all do. And it's okay if it takes time to figure this out. Your career is a process. It's learning and growing at your pace, and you don't need to be on anyone else's timeline.
What is something you do for yourself every day?
I always take 5 minutes in the morning to snuggle with my dog, Rosie. She's a little fluffy Shih Tzu-Bichon-Poodle cross and, like most dogs, loves belly rubs.
What's the last great thing you've read and or watched?
In terms of a show that really warms my heart, Ted Lasso. It has such spirit to it.
About the Distinguished Alumni Awards
The UVic Distinguished Alumni Awards celebrate the remarkable achievements of UVic graduates.
Nominations for the 2024 awards are open now through Oct. 13, 2023.