Food services
Nibbles & Bytes Cafe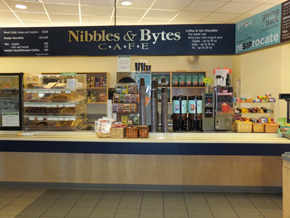 Features:
freshly made gourmet pizza
wraps and sandwiches
salads
breakfast sandwiches
pastries and other sweets
a range of beverages including fresh coffee and tea
*Please note: Nibbles & Bytes is closed weekends and statutory holidays.
Click here for hours of operations
Vending machines
Vending machines are located at the top of the main lobby stairs, second floor of the Engineering lab wing and also on the main floor of the Engineering Computer Science building.
Other dining
UVic has many alternative food services locations outside of the Engineering annex.