Joan Wharf-Higgins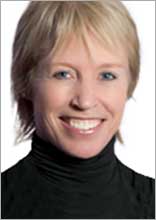 Position
Professor
Credentials
Contact
Office: MCK 0024d
Description
Dr. Joan Wharf Higgins is a Professor and former Canada Research Chair in Health and Society. The Canadian Association for the Advancement of Women and Sport and Physical Activity (CAAWS) selected her as one of the Most Influential Women in Sport and Physical Activity of 2013. Joan is one of the founders of the Institute of Applied Physical Activity and Health Research. She is also a marathoner, having completed more than 23 marathons, including the 5 World Major marathons and 19 half marathons.
Courses taught
EPHE 454 Marketing for Health and Social Change
EPHE 583 Issues in Health Promotion and Wellness
Research interests
Health literacy
Community-based research
Social marketing
Social determinants of healthy living
Selected publications
Wharf Higgins, J., Strange, K., Scarr, J., Pennock, M., Barr, V., Yew, A., Drummond, J., & Terpstra, J. (2011). "It's a feel. That's what a lot of our evidence would consist of:" Public health practitioners' perspectives on evidence. Evaluation & the Health Professions, 34(3), 278 - 296.
Wharf Higgins, J., Begoray, D., & MacDonald, M. (2009). A social ecological conceptual framework for understanding adolescent health literacy in the health education classroom. American Journal of Community Psychology, 44, 350–362.