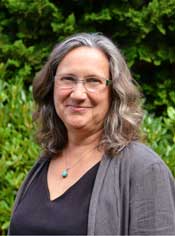 Position
Assistant Professor, Educational Foundations and Teacher Education
Curriculum and Instruction
Credentials
Contact
Office: MacLaurin A353
Transformative Inquiry
Pre-service teacher development
Cross-cultural understanding
Indigenous learning and teaching
Holistic education
Early childhood education
Mindfulness in education
Generous listening
My research and teaching interests are shaped by 20 years of classroom experiences in a variety of educational settings including early childhood, kindergarten, Grade 5 reading, and adult education. I continue to explore how as teachers, our choices to pay careful and honest attention to cultural values, beliefs and attitudes can transform our practice and create increasingly vibrant, meaningful and sustainable spaces of learning and teaching.
I teach courses in Transformative Inquiry, Community & Culture, EL TELNIWT & Aboriginal Education, and Elementary Field Experiences. In all my courses I work with the endogenous processes and knowledge that each learner brings to the learning context, while at the same time attending to social, cultural and ecological influences that come to bear on how we are related and relationally accountable.
I am currently serving on the Indigenous Education Advisory Board, the Diversity, Belonging & Equity Committee and the Faculty of Education Social Committee.
My current research project: "Transformative Inquiry: A relational approach to untangling the complexities of teaching" is funded by a grant from the Social Sciences and Humanities Research Council of Canada. As primary investigator I work with a team of instructors, graduate students, scholars, and pre-service teachers to clarify and articulate the essential elements, intuitive processes and practical tensions inherent to the Transformative Inquiry process used by pre-service teachers as they develop their teaching practice. Through a collaborative research effort, we attend to processes of mentoring, rhythms of inquiry, and to the thoughts and actions of students.
My graduate students are focused on work that deals with deep levels of relational accountability and transformative pedagogy. For example, one MA student is exploring how the holistic and community oriented practices of a school in India affects the resiliency of its students. A doctoral student is examining the uses of mandala creation as a tool for self-exploration and pedagogy.
GTP Tanaka, M.T., Walking Alongside: Changing Cultural Dispositions through an Indigenous Learner~Teacher Experience. Vancouver: UBC Press.
GTP Tanaka, M.T., Transformative Inquiry in Teacher Education: Evoking the Soul of What Matters. Teacher Development.
2014 Tanaka, M., Stanger, N., Tse, V. and team. Transformative Inquiry iBook (version 4.5) available on iTunes 
2014 Tanaka, M.T., Tse, V., Farish, M., Doll, J., Nicholson, D. & Archer, E. Carried along in the tide of another's knowing: The vulnerability of mentor~mentee relationships in Transformative Inquiry. Journal of Transformative Education, online. DOI: 10.1177/1541344614545129
2014 Tanaka, M., Tse, V., Stanger, N., Piché, I., Starr, L., Farish, M. Abra, M. The edge of counselling: Mindful negotiation of emotions towards transforming learning~teaching. In L. Thomas, (Ed.), Becoming teacher: Sites for development of Canadian Teach Education (pp. 467-502). E-book published by the Canadian Association for Teacher Education <https://sites.google.com/site/cssecate/fall-working-conference>
2014 Williams, L., Tanaka, M., Leik, V. & Riecken, T. Walking side by side: Living indigenous ways in the academy. In Etmanski, C., Hall, B. and Dawson, T. (Eds.) Learning and Teaching Community Based Research: Linking Pedagogy to Practice, p 229-252. Toronto: University of Toronto Press.
2013 Tanaka, M.T. Learning to dwell aright in the tensionality of a sweat lodge. In Hurren, W. & Hasebe-Ludt, E. (Eds.) Contemplating Curriculum: Genealogies/Times/Places (pp.174-186). New York, NY: Routledge.
2013 Stanger, N. R. G., Tanaka, M., Starr, L., & Tse, V. Winter counts as transformative inquiry: The role of creative imagery as an interpretation of adaptive change. Complicity, 10(1/2).
2012 Tanaka, M.T., Nicholson, D. & Farish, M. Committed to Transformative Inquiry: Three teacher educators' entry points into the mentoring role. Journal of Transformative Education, 10(4), 257-274.
2011 Tanaka, M.T. Formative touchstones: Finding place as a teacher through an indigenous education experience. Chapter in Mitchell, C., Strong-Wilson, T., Pithouse, K., & Allnutt, S. (Eds.). Memory and pedagogy, p. 60-77. New York: Routledge.