Azra Rajwani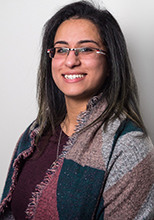 Position
Jr. BioMedical Engineer, EIT
StarFish Medical
Credentials
BEng in Biomedical Engineering (2016)
Currently working at StarFish Medical, Azra finds her time split between the BioTech team and the Quality Assurance team.
On the BioTech Team, Azra spends her time working on assay development and analyzing the outputs of those assays.
For the QA Team, Azra works to maintain the Quality Management System, performs product releases and routine project audits to ensure proper project documentation.