Michael Peirone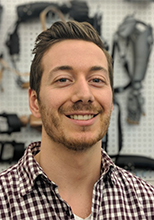 Position
Chief Operating Officer
Victoria Hand Project
Credentials
BEng in Biomedical Engineering (2016)
Michael works with the Victoria Hand Project to provide low-cost, highly functional, 3D printed prosthetic devices to amputees in the developing world.
As COO, Michael helps oversee the project in Victoria and the 6 developing countries where VHP operates. This includes providing support to the in-country 3D print staff and clinical staff. Michael assists in the engineering design and testing of the Victoria Hand to increase the functionality and lower the cost.
The project has taken Michael to Nepal, Cambodia, Ecuador, Haiti and Uganda to provide training and to develop relationships with the international partners. Michael also works to expand the project to new developing countries to help more amputees around the world.