Digital signage templates
Static digital signage templates are available for free to help the UVic community create content for digital signage. These provided PowerPoint templates meet the standards of the UVic design guidelines for digital signage.
Downloading the templates
Anyone who wants to create content for digital signage can download the templates using the download links below. The themed template packages below include a number of format options designed to provide varied layouts that can accommodate diverse assets.
Options
Below are four different themed template packages: light blue, dark blue, white as well as a package of varied faculty colours.
Within each downloadable template are 15+ different layout options, each with options for images or text only. The faculty version contains five options of each faculty colour and have been created with course promotion in mind.
The various layout options can be accessed by selecting new slide or layouts from the options panel once the file has been downloaded and opened in PowerPoint.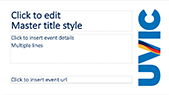 White templates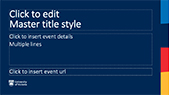 Dark blue templates
Saving PowerPoint slides as JPEGs
The CoolSign software accepts JPEG files for static slides.
To save slides as JPEGS in PowerPoint:
Go to the File tab
Select Save as Picture or Save as and in the drop down menu select format JPEG
Under Options save graphics as files
Enter Size as Width: 1920 px and Height: 1080 px
Name the file according to the naming convention
Select Save
Saving a series PowerPoint slides as a WMV videos
If you would like to make your content a little more dynamic, try creating a series of slides and save them as a video. This will add a bit of action to your messaging. 
The CoolSign software accepts WMV files for dynamic video files converted from PowerPoint.
To save series of slides as WMV in PowerPoint:
Go to the File tab
Select Save as Movie or Save as and in the drop down menu select WM Windows Media Video file (.wmv)
Select Movie options
In the movie dimensions box, enter Width: 1920 px and Height: 1080 px
Select OK
Name the file according to the naming convention
Select save (may take a few seconds to save)