New students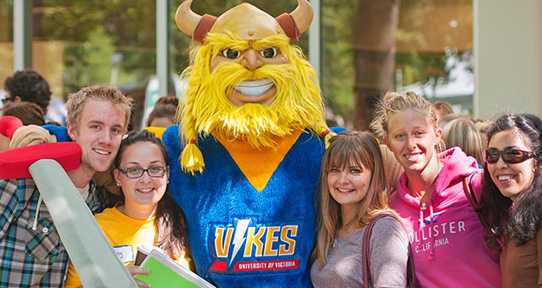 Congratulations on your admission to the University of Victoria. You're about to become part of a fantastic campus community and rewarding academic environment, and we can't wait for you to start.
Undergraduate students
Once you've confirmed your offer of admission, it's time to begin planning for your arrival at UVic. We're here to help, with lots of information to get you started.
All undergraduate students enrolled in a degree program are required to meet UVic's Academic Writing Requirement. Your admission offer will indicate if you have already satisfied the requirement.
If you have not previously completed grade 11/12 math through a Canadian curriculum high school, you may need to write a math pretest to demonstrate that you meet prerequisites for certain math courses. Sign up in advance to write a test when you arrive at UVic.
Course registration begins in mid-June for both fall and spring terms and mid-March for summer term. Check out Program planning and course registration for information on selecting courses, structuring your schedule and planning your degree.
Attend a Registration 101 event in your community, on campus or online by webinar.
Look for your "Registration at UVic begins soon!" email, which contains instructions how to access your date and time for course registration:
Registration date and time information is sent in early June for courses running September-April (winter session)
Registration date and time information is sent in March for courses running May-August (summer session)
After you are admitted to UVic and pay the $200 acceptance deposit, you are eligible to login to the ONECard Photo Submission page via My page.
New students should upload their photo online before arrival to reduce line-ups when picking up their new ONECard. Once you have registered for courses, the ONECard office will print your new card.
Every new student is invited to participate in the programs and events offered by UVic Orientation. Registration opens in June for September orientation activities, and in November for January orientation.
Graduate students
Chek out the following pages on the he Faculty of Graduate Studies website to start your transition to life as a UVic graduate student:
Additional information for international students
Coming to UVic from another country can involve quite a few more steps than if you're arriving from just down the street.
Visit uvic.ca/international to find helpful advice and resources for international students who are new to Canada, including information on immigration, health insurance and cultural support.