Academic advising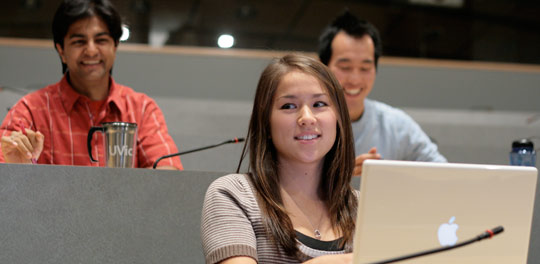 Advising services are available to assist you in matching programs and opportunities to your abilities, interests and career goals, and to provide guidance on academic requirements and appropriate strategies and resources to support degree completion.
I want to ...
---
Contacting your adviser
If you have questions or need assistance with program and degree planning you're encouraged to take advantage of the advising services available to you.
Program
Office - location
Contact
Business
Business Student Services Office - BEC 283
advisor@uvic.ca
250-472-4728
Continuing Studies
Registration help - CST 2nd floor
register@uvcs.uvic.ca
250-472-4777 
Kinesiology, Recreation & Health Education
Exercise Science, Physical and Health Education Adviser - MCK 115
epheadv@uvic.ca
250-721-6554
Teacher Education
Teacher Education Adviser - MAC A250
adve@uvic.ca
250-721-7877
Indigenous Education
Indigenous Education Student Support - MAC A264
iedlpa@uvic.ca
250-721-7824
Engineering & Software Engineering
1st Year Adviser - EOW 211
engradav@uvic.ca
250-721-6018
Biomedical, Computer, Civil, Electrical, Mechanical & Software Engineering
Exchange and visiting students - EOW 206
engr@uvic.ca
250-721-6023
Biomedical, Computer, Civil, Electrical, Mechanical & Software Engineering
Advising support - EOW 206

enguo@uvic.ca
250-721-8678

engr@uvic.ca
250-721-6023

Biomedical, Mechanical & Software Engineering
2nd, 3rd and 4th year Adviser - EOW 207
engradv1@uvic.ca
250-472-5215
Computer, Civil and Electrical Engineering
2nd, 3rd and 4th year Adviser - EOW 219
engradv2@uvic.ca
250-472-5216
Computer Science 
Adviser - ECS 512
cscadvisor@uvic.ca
250-472-5757
Computer Science 
Advising support - ECS 514
cscao@uvic.ca
250-472-581
Fine Arts
Adviser - FIA  119
fineartsadvising@uvic.ca
Music
Adviser - MAC  B106
michalsk@uvic.ca
250-721-7904
Child & Youth Care
Adviser - HSD B102A
cycadvising@uvic.ca
250-721-7984
Health Information Science
Adviser - HSD A202
his@uvic.ca
250-721-8576
Indigenous Student Support Centre
Student Support Centre
hsdia@uvic.ca
250-472-5431
Nursing
Adviser - HSD A402

pmeier@uvic.ca
250-721-7961

Public Administration
Adviser - HSD A302
hkirkham@uvic.ca
250-721-8849
Public Health and Social Policy
Adviser 
phspmgr@uvic.ca
250-853-3845
Social Work
Adviser - HSD B302
socw@uvic.ca
250-721-8036
Law
Pre-law student adviser
lawadmss@uvic.ca
250-721-8155 or 250-721-8151
Law
Current law student adviser
lawmaass@uvic.ca
250-721-8153
Academic Advising Centre
The Academic Advising Centre supports students in the Faculties of Humanities, Science and Social Sciences throughout their degree with course selection and in developing personal academic plans that ensure graduation requirements will be met. Academic advisers can also help you reflect on your abilities, interests and career goals as they relate to your program and course choices.
Academic unit advisers
Academic unit advisers are faculty members who provide advice on their own specific programs of study within the Faculties of Humanities, Science and Social Sciences; they can make students aware of the resources and academic opportunities in their units, advise on career paths in their academic field, approve adjustments to program requirements and determine whether transfer credits can be substituted for UVic course requirements.
The front-line staff in your department of study will be able to tell you the name and office number for your program's academic unit adviser.
---
Courses to take if you know your program
If you're set on a particular field of study, review the corresponding program outline to determine the most appropriate courses for your first year at UVic. Once you've reviewed the outline for your program, it's also worth looking at the appropriate Calendar entry to get a better idea of how the recommended courses fit with your overall program requirements.
If you aren't sure what program to study
Many students are undecided about their program of study when they begin their undergraduate studies, while others end up graduating from a different program than the one in which they started.
Ask yourself:
What am I interested in? What are my values?
What are some future goals that I want to achieve? How or what kind of classes will support these goals?
What classes did I like in high-school? What are the classes that I didn't like as much?
What kind of classes could I take that may open my mind to new ideas?
If you are still having a hard time deciding on the program to pursue, you might want to take a selection of courses from different areas of study so that you can explore your options. If you'd like to speak with someone about making the right program choice for you, get in touch with an academic adviser or check out the career exploration tools and workshops available through Counselling Services.