Campus Update sessions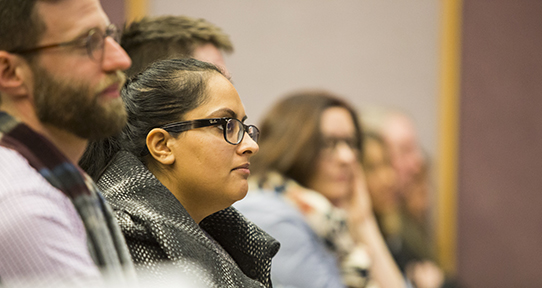 Campus Updates are a regular series of town hall meetings bringing university leaders to the podium to brief the campus community on major initiatives, opportunities and matters of institutional interest.
The sessions are also an opportunity for campus leaders to hear from you in an open and respectful collegial environment.
All UVic faculty and staff are invited to attend.
Please send your suggestions for future topics to uviccampusupdate@uvic.ca.
Watch a recording of the Nov. 18 Campus Update
Monday, Nov. 18, 2019
12:15-1:15 p.m.
Join VP Lisa Kalynchuk as she provides an overview of her priorities for the research portfolio and highlights initiatives currently underway, followed by an opportunity for attendees to ask questions and share ideas. 
We look forward to engaging with you on these initiatives and strategic priorities.
Thursday, April 18, 2019
12:15–1:15 p.m.
David Lam Auditorium, MacLaurin Building (room A144)
The session included a presentation on the university's recently approved 2019-20 Planning and Budget Framework.
Please send suggestions for future topics to uviccampusupdate@uvic.ca.
Monday, Dec. 10, 2018
This Campus Update provided an overview of the past, present and future of the university's 2018/19 Five-Year Capital Plan, including the recently approved, first-ever Campus Cycling Plan, and the details of the new student housing and dining project—the largest capital project UVic has ever undertaken.
Wednesday, Sept. 19, 2018
UVic President Jamie Cassels officially launched the Strategic Framework 2018–23 at his annual President's Campus Update.
The update included a presentation on the highlights of the last year and an announcement of some new strategic initiatives for the coming year.
Cassels' presentation was followed by a panel discussion with representatives from faculty and staff about what the Strategic Framework means to their units, and how they are already bringing the priorities and strategies to life.
Campus presentations also occurred on:
Apr. 27, 2018: Overview of 2018-19 Planning and Budget Framework and plans on the strategic enrolment management and student housing.
Dec. 12, 2017: President's Campus Update highlighting strategic plan consultation process
March 31, 2017: Planning and Budget Framework
Dec. 7, 2016: New initiatives and plans being implemented on campus (four vice-presidents presented a set of very quick updates on our progress to date)
Oct. 5, 2016: President's Campus Update
April 13, 2016: Planning and budget framework for 2016-17 and updates on ongoing university activities
Jan. 13, 2016: Enhanced Planning Tools, Campus Plan, Strategic Research Plan and Indigenous Academic Plan; Budget process, planning assumptions and financial outlook for 2016-17; internal communications and the UVic Edge
April 10, 2015: 2015-17 Planning and Budget Framework & Capital Planning process
Dec. 4, 2014: Strategic Research Plan & Campus Plan
June 25, 2014: Enhanced Planning, UVic Difference Project & year-end financial results