Tara Sharpe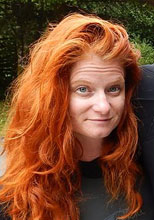 Position
Communications Officer
Media Relations & Public Affairs
Contact
Office: Office: SED C157
A 450-year-old map of London that brings Shakespeare's 'hood to life, 13 unsolved history mysteries and subsea gliders following in the wake of whales — these are just three of the many hundreds of UVic stories I get to pitch to news in print, broadcast and multimedia in Victoria, throughout BC and often across the country and the globe.
I also assist media with finding UVic experts on a wide array of topics and breaking news. I cover various beats for individual faculties and units, including strategic communications planning in support of university events and research announcements.
As required, I also provide media relations advice to executive and senior administrators and I help oversee the daily prep of our news clippings for senior campus officials and other community members.
Background
BA Hons (English, writing) from UVic. Nearly ten years of media relations, communications and customer relations experience at BC Ferries prior to joining the UVic team in June 2007.
Beat information
Centre for Asia Pacific Initiatives (comm officer: Jonathan Woods)
Centre for Global Studies
Centre for Studies in Religion and Society (comm officer: Stephanie Harrington)
Chair in Transgender Studies (comm officer: Anne MacLaurin)
Continuing Studies
Faculty of Fine Arts (comm officer: John Threlfall)
Faculty of Humanities (comm officer: Stephanie Harrington)

English
French
Gender Studies
Germanic and Slavic Studies
Greek and Roman Studies
Hispanic and Italian Studies
History
Linguistics
Pacific and Asian Studies
Philosophy
Also: The Malahat Review
Also: Humanities Computing and Media Centre

Faculty of Social Sciences (comm officer: Anne MacLaurin)

Anthropology
Economics
Environmental Studies
Political Science
Psychology
Sociology

Farquhar Auditorium
Legacy Art Galleries
Libraries (comm officer: Lisa Abram)