Alicia Kaiser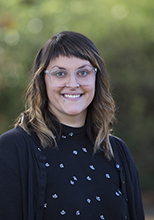 Position
Marketing and Digital Signage Coordinator
Strategic Marketing
Contact
Office: SED C161
Have an event, new course or announcement that you'd like to get the word out about? Need some help brainstorming where, when and how to promote it? Want some cool Edge swag? Not quite sure what you need to do to engage students?
I'm here to help you and your unit tell your unique story—either on- or off-campus—in a way that'll reach who you want to reach while being consistent with UVic's look and feel. I promise it'll be easy, too. Whether its developing plans, timelines or budgets or organizing the creation of new helpful promotional pieces, I will help wrangle it!
I also manage the Digicaster network coordinating, creating and scheduling content across the 90+ digital screens on campus and working with units who manage their own signage.