Community stories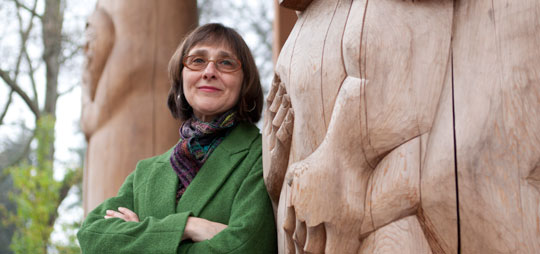 Community involvement makes a difference in Victoria and around the world
Inside the main entrance of UVic's First Peoples House are two house posts by Tsartlip artist and master carver Charles W. Elliot. UVic linguist Dr. Ewa Czaykowska-Higgins found a quiet moment outside this building a few days after accepting a prestigious BC Community Achievement Award to reflect on her work on the Coast Salish Language Revitalization Community University Research Alliance (CURA) Project. In keeping with the nature of her work, she was not thinking of herself on either day.
A Thunderbird totem pole also carved by Elliot stands at the entrance to the LÁU,WELNEW Tribal School (near the community of Brentwood Bay) where Elliot's brother John, chair of the Saanich Native Heritage Society, is a teacher. Their father, Dave Elliot Sr. (1910-1986), created an orthography to revive SENĆOŦEN, the language of the WSÁNEĆ people whose ancestral territory includes the Saanich Peninsula and Gulf Islands.
These pieces of an interpersonal, multigenerational puzzle are closely tied, as Czaykowska-Higgins received the provincial achievement award in recognition for bringing consultative, integrative processes into the language revitalization partnership. Speaking about the award, she applauds the Aboriginal communities of Vancouver Island and the Straits Salish communities who partnered with UVic in their work to reclaim their languages, rather than holding the spotlight for herself.
Learn more about Dr. Ewa Czaykowska-Higgins' project.
STEHM microscope brings international attention
The University of Victoria is now home to the most powerful microscope ever built. On May 22, the 7-tonne, 4.5-metre tall Scanning Transmission Electron Holography Microscope (STEHM) arrived on campus in 22 pieces. The next day, four large pieces were lowered into a special room in the basement of the Bob Wright Centre, where the microscope has since been assembled under the watchful eye of mechanical engineer Dr. Rodney Herring, director of the UVic Advanced Microscopy Facility.
The STEHM is a one-of-a-kind machine built for UVic in Japan by Hitachi High Technologies Canada and is the highest-resolution microscope in the world. It will allow researchers to see things 20 million times smaller than the tiniest thing the unaided human eye can see.
Unlike conventional microscopes, which use light to peer at specimens, the STEHM uses an electron beam and holography techniques to observe the inside of materials and their surfaces to an expected resolution smaller than the size of an atom. The microscope is expected to draw experts from a vast spectrum of fields—from medical researchers to nanomaterial design specialists—to Victoria. "The STEHM will make the university unique, and a world-class leader. We have so many people asking, from around the world, 'can we come use your microscope?'" explains a beaming Dr. Elaine Humphrey, manager of the UVic Advanced Microscopy Facility.
Watch a video about the STEHM.
Face Camp youth help autism centre develop treatment tools
When Victoria-area children take part in Face Camp summer programs at UVic, they know they're having fun. But at the same time, they're also crowdsourcing their intuitive understanding of how faces convey feeling, and helping psychologists design better tools for autism treatment.
UVic psychologist Dr. Jim Tanaka has attracted attention in the past for his research on facial recognition, including mentions in the Boston Globe and New York Times for work on implicit bias and facial recognition training. Now he's leading a brand new UVic centre aimed at helping those with Autism Spectrum Disorder (ASD). The UVic centre designs breakthrough computer interventions, including a "FaceMaze" game to help children with ASD express facial emotions. To score points while moving a Pac-man character through a maze, children must pose a happy or angry facial expression, recorded by a webcam, and evaluated by a computer software program.
Although the research results from current FaceMaze tests and games are only preliminary, improving attentiveness to and awareness of others' facial cues, and learning to modify and present emotion-appropriate facial expressions themselves, appears to help those with ASD communicate better with others. And the work done at the centre has also attracted attention from media powerhouses like CNN and The Globe and Mail.
Youth volunteers for this year's Face Camp sessions on the UVic campus are being sought now, as well, for sessions in early and mid-July. Children of all abilities from the ages of 5-12 are invited to learn about the scientific principles of face recognition by doing fun, hands-on activities at this free camp.
Learn more about Face Camp.