Recycling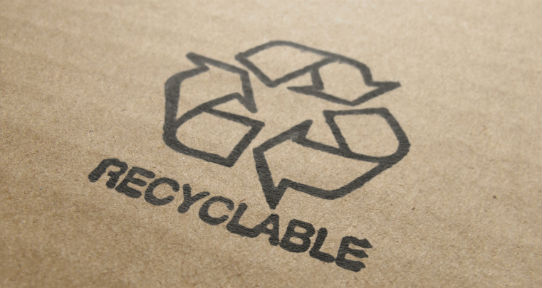 The University of Victoria has a number of different operational programs in place to deal with the recycling of many items.
We use a standard 3-bin recycling station in every building. In 2016 we moved away from deskside recycling services for staff and faculty, so now student, staff and faculty interact with the over 400 stations to sort their materials which uses these categories: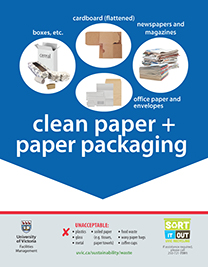 Yes
all office paper
magazines and newsprint
phone books (small quantities)
flattened cardboard boxes
No
corrugated cardboard (flatten these and stack them next to the continer
paper towels, napkins, and tissues 
paper plates
coffee cups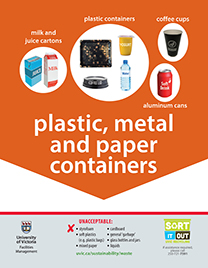 Yes
all refundable bottles & cans
tin & aluminum
paper containers like milk cartons and tetra-paks
hard plastics including coffee cup lids and sushi trays
coffee cups
We ask that you please rinse all container before recycling them.
No
soft plastic bags or straws
styrofoam
UVic has an extensive recycling system beyond our standard 3-bin recycling station. See below for more details.