Recycling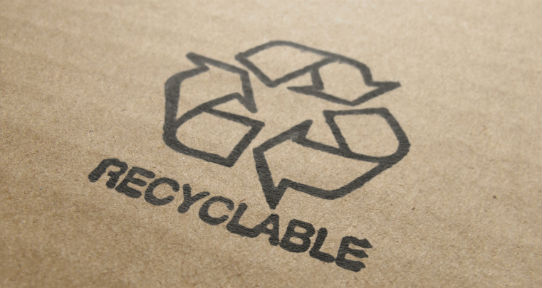 The University of Victoria has a number of different operational programs in place to deal with the recycling of many items. Our handy Recycling info card & map provides a summary of all the recycling information you see here.
All deskside blue bins on campus should be used to recycle mixed paper only. We use a standard 3-bin recycling station in most buildings, which uses these categories: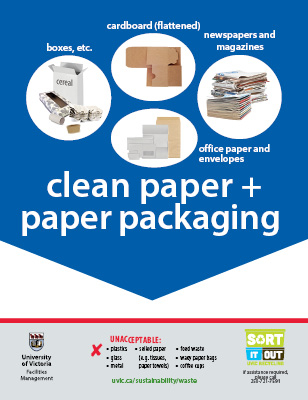 Yes
all office paper
magazines and newsprint
phone books (small quantities)
No
corrugated cardboard
paper towels, napkins, and tissues 
paper plates
coffee cups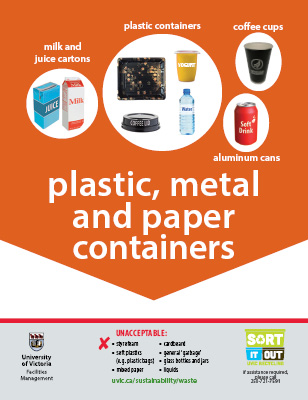 Yes
all refundable bottles & cans
tin & aluminum
milk cartons and tetra-paks
hard plastics including coffee cup lids and sushi trays
coffee cups
We ask that you please rinse all container before recycling them.
No
soft plastic bags or straws
styrofoam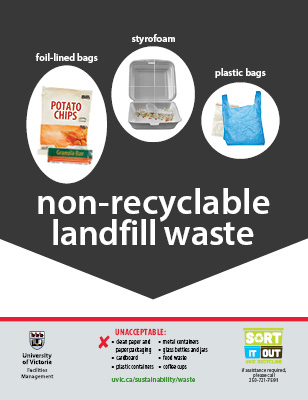 Yes
chip bags, candy and granola wrappers
No
paper
cardboard
refundable containers
batteries
Styrofoam
soft plastics
food waste, paper towels or coffee cups
UVic has an extensive recycling system beyond our standard 3-bin recycling station. See below for more details.
UVic's food waste is picked up by reFuse Resource Recovery and sent to an industrial composting system in Cobble Hill.  This system can take many items that you would normally not put in a backyard composter, for example all meat and dairy products, paper towels and paper coffee cups (lids removed!). Here's a complete list: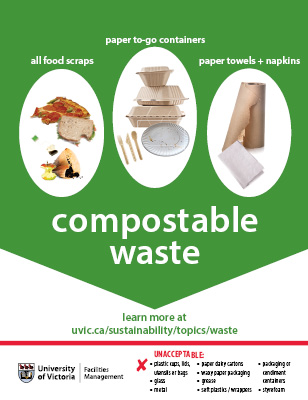 Yes
All food waste, including meat and dairy products
Compostable cutlery and clear cups
Pizza trays
Paper towels and napkins
Tea bags
Coffee cups (lids removed)
No
Biodegradable bags, cups or utensils
Plastic coffee cup lids
Compost totes are conveniently placed around the campus grounds. Get a handy map of all our campus compost drop stations.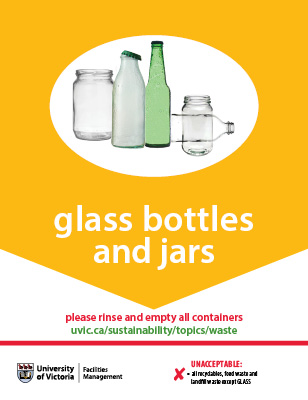 Yes
No
Anything not made of glass
If you are UVic Staff and have larger quantities, please submit a service request (through FMIS) to notify waste reduction of the need for a pick-up. Bag the styrofoam and soft plastic seperately. Take the bagged refuse to your buildings loading dock, where all the main recycling bins are located, and place the bags in large red cardboard bin
Contact action@uvic.ca for assistance.
Computers, printers, AV equipment, other electronics and media (CDs, diskettes) can be picked and recycled or sent to asset disposal. All hard drives must be removed prior to disposal and all electronics must be tagged for recycling by your IT administrator.  All UVic owned cameras, PDAs and storage media (discs, tapes etc) should be disposed of through UVic systems for confidential shredding/recycling.
Process:
Departments supported by systems contact you University Systems local support person. If you are unaware of who that is contact the Systems Help Centre. System will assess the device to see if it should be recycled or repurposed.
If your equipment is marked with a recycling sticker or you learn that it needs to be disposed of, someone in your office will need to send in a FMIS request to have your material picked up.
See the Green IT guide in the Resource section of this website for more details.