Mapping campus foodscapes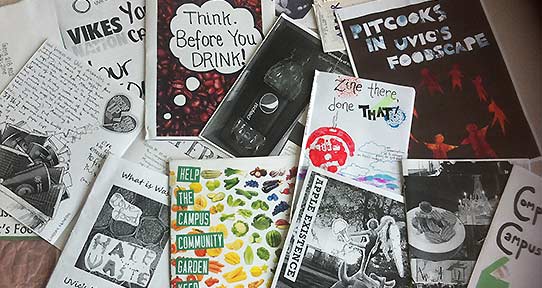 By Susan Kerr, Sustainability Coordinator
November 2015
From recycling initiatives to local food purchasing the University of Victoria has been a leader in promoting sustainable food on campus.
In Dr. Jennifer Bagelman's second-year Geography class at UVic students were asked: 'how can you promote food sustainability on campus?' After participating in zine labs, co-led by Dr. Carly Bagelman, students were asked to do a food tour of UVic and then produce a 'Campus Foodscape Zine' to explore this question. Each zine (a visual infobooklet) illustrates students' own experience of their foodscape through maps, photos and personal stories.
These student zines are a valuable resource; they identify successes, challenges and recommendations that seek to nourish even more sustainable campus. You can check out some of Campus Foodscape Zines below!
"Green UVic: Some positive movements already in place around camps. Food edition"
"Help the campus community garden keep growing"
"Compostable campus: Investigating UVic foodscapes through compost"
"Waste in the UVic foodscape"
"Done That! An examination of three common places to get food on UVic's campus"
"Think. Before you drink"
"Ring Road residence community garden"
"Food not lawns"
"The blue bin"
"How sustainable is UVic's food?"
"Pitcooks in UVic's foodscape"