Cadboro Commons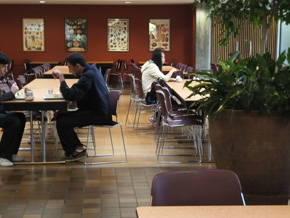 Come see what you've been missing! Large indoor seating allows for study area, private or group seating. Features:
made to order grill items
daily hot meals
salad bar
wraps and sandwiches
sushi
fresh made soup
fruit, pastries and other sweets
an assortment of beverages including fresh coffee and tea
Methods of payment: accepts ONECard, cash, credit and debit.
Hours of operation between the dates of Tuesday, Jan 3, 2017 and Friday, Feb 10, 2017
---
| | |
| --- | --- |
| Day | Hours |
| Monday | 7:30am to 7:30pm |
| Tuesday | 7:30am to 7:30pm |
| Wednesday | 7:30am to 7:30pm |
| Thursday | 7:30am to 7:30pm |
| Friday | 7:30am to 7:30pm |
| Saturday | 7:30am to 7:30pm |
| Sunday | 7:30am to 7:30pm |
---
Hours of operation between the dates of Saturday, Feb 11, 2017 and Saturday, Feb 18, 2017
---
| | |
| --- | --- |
| Day | Hours |
| Monday | 8:30am to 6:30pm |
| Tuesday | 8:30am to 6:30pm |
| Wednesday | 8:30am to 6:30pm |
| Thursday | 8:30am to 6:30pm |
| Friday | 8:30am to 6:30pm |
| Saturday | 8:30am to 6:30pm |
| Sunday | 8:30am to 6:30pm |
---
Hours of operation between the dates of Sunday, Feb 19, 2017 and Sunday, Feb 19, 2017
---
| | |
| --- | --- |
| Day | Hours |
| Monday | CLOSED |
| Tuesday | CLOSED |
| Wednesday | CLOSED |
| Thursday | CLOSED |
| Friday | CLOSED |
| Saturday | CLOSED |
| Sunday | 8:30am to 7:30pm |
---
Hours of operation between the dates of Monday, Feb 20, 2017 and Tuesday, Apr 4, 2017
---
| | |
| --- | --- |
| Day | Hours |
| Monday | 7:30am to 7:30pm |
| Tuesday | 7:30am to 7:30pm |
| Wednesday | 7:30am to 7:30pm |
| Thursday | 7:30am to 7:30pm |
| Friday | 7:30am to 7:30pm |
| Saturday | 7:30am to 7:30pm |
| Sunday | 7:30am to 7:30pm |
---