The Canadian Undergraduate Math Conference will be hosted at UVic in July, 2016 for the first time in its over 20 year history. This conference brings undergraduate math students from across the country together in a way that no other event does. Says organizer and fourth year math student, Chloe Lampman, "The conference is really one of a kind in Canada in that it is devoted solely to sharing undergraduate research in a cooperative, non-competitive and fun atmosphere."
---
Dr. David Leeming, PIMS' Education Coordinator at the University of Victoria, has been chosen to receive the BC Council on Admissions and Transfer's (BCCAT) Franklin Gelin Lifetime Achievement Award. This award, which is not awarded annually, but in fact only when a truly outstanding nomination has been received, recognizes an individual whose long-term contributions and far-reaching impacts have become apparent over a career of commitment to advancing transfer and articulation in the BC post-secondary system.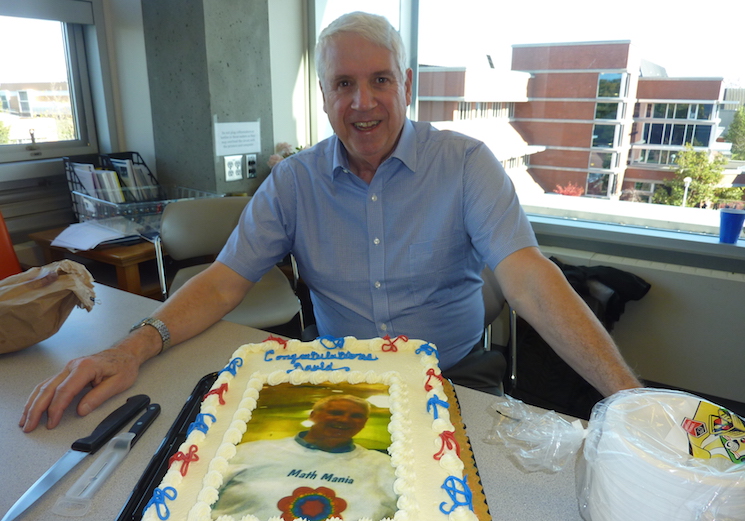 Read more about Leeming to receive lifetime achievement award.
---
The Putnam Math Competition will be held on Saturday, December 5th starting at 8:00am in CLE C112. Interested students should register for free by sending an email to Dr. Sourour at sourour@uvic.ca.
---
Mathematics and Statistics - Faculty of Science
RTR 270-093
The Department of Mathematics and Statistics at the University of Victoria invites applications for a tenure-track position in Probability Theory, to commence July 1, 2016.
The University of Victoria provides an excellent environment to conduct an active research program in Probability, which is a strength in the Pacific region. The University of Victoria is a member of the Pacific Institute for the Mathematical Sciences (PIMS), which provides opportunities for collaboration and postdoctoral support. The Department itself is highly active in research areas that touch on Probability, and the successful candidate will find a supportive and intellectually challenging academic environment at the University of Victoria.
---