Parents & guardians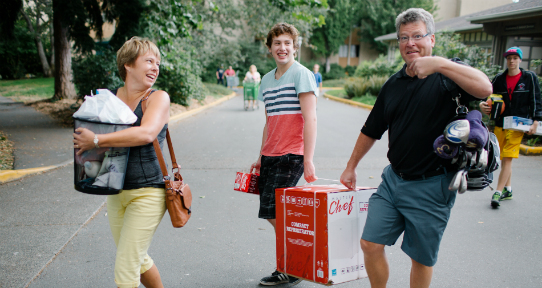 Sunday, Sept. 3, 2017
If you're travelling to Victoria with your student this September, join other parents and guardians at Family Orientation, taking place on Residence Move-in Day. You'll learn more about UVic and the services we provide and find out how you can support your student's transition to university life. Parents and guardians can attend campus tours and an information fair.
Family Tours
Family tours leave from the UVic Orientation tent at the Cadboro Commons information fair. These walking tours will introduce you to campus locations and services, and are approximately one hour long.
Cadboro Commons Information Fair & Barbeque
Find out more about UVic's student services at the Cadboro Commons information fair. Stop by the fair to connect with campus services and enjoy complimentary coffee, tea and lemonade with our deans. The information fair will run from 10:00 a.m. to 3:00 p.m.
UVic Food Services will be running a for-purchase barbeque at the Cadboro Commons for students and families, where you'll be able to purchase hamburgers, veggie burgers, hot dogs and drinks.