Benefits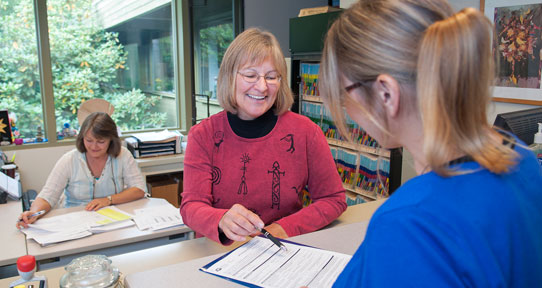 The benefits office administers all personnel benefit plans (medical, extended health, dental, life insurance and long term disability insurance) for faculty and staff.
Benefits vary significantly by employee group. Contact us for information about your individual benefits.
Our team determines eligibility and administers the enrollment process for the UVic pension plans. The Pension Services Office administers all other aspects of the pension plans.
Update on Pacific Blue Cross Service Disruption
Updated message from PBC July 21, 2017:
Pacific Blue Cross cares about the health and wellbeing of our Members. We are experiencing service delays due to rotating labour disruptions that have impacted the service and sales experience that our Members deserve.
You can always save time and claim online. However, customer service and processing times for paper claims, cheques and benefits inquiries at the Pacific Blue Cross office in Burnaby, BC, are impacted. Short and long term disability payments will continue. At this time, our focus is on maintaining service and support for our members. Here is what you can do:
1. Go Digital with Pacific Blue Cross
2. For coverage and claims use our digital channels, including:
• Pacific Blue Cross Insta-Claim Health Providers
o Search by health provider and location
o The health provider automatically submits your claim to Pacific Blue Cross
o You only pay for the difference not covered by your plan
• Pacific Blue Cross online claims
o Submit scanned receipts and health claims
o Receive payment in as little as 48 hours
o Check what's covered and view recent claims
 • Pacific Blue Cross mobile app
o Sign in with fingerprint touch ID
o Snap photos of receipts and submit health claims
o Buy travel insurance
3. Visit Pacific Blue Cross for frequently asked questions
4. Buy travel insurance and personal health insurance online
Pacific Blue Cross thanks you for your patience and hopes to return to full service soon. Please check the Pacific Blue Cross website for updates and information. http://www.pac.bluecross.ca/
We appreciate your patience during this temporary disruption. Should you have any concerns, please contact our Benefits Office at benefits@uvic.ca.
Update!
Premium rates for some employee benefit plans have been updated effective July 1st. Consult your online paystub, Benefit Handbooks or Quick Reference Guides for up-to-date info.
News!
We are pleased to announce that effective June 1, 2017, Morneau Shepell will be UVic's designated EFAP provider.  
Morneau Shepell replaces Optum Canada, who has been providing EFAP services to UVic for many years. As we transition from Optum to Morneau Shepell, there will be no disruption of EFAP services.
Until June 1st, it will be business as usual with Optum.  Those who are currently in counselling at the time of the June 1st transition will be able to complete counselling with Optum and their counsellor will advise them of the details.
Staff, supervisor and people leader orientation sessions are planned for October 2017.
Annual Reports
NEW! Financial Roadmap - your guide to financial success! Visit planning ahead for information on financial seminars, workshops and web resources
The Benefits Office is located in Human Resources, Sedgewick Building, room B128.
Brandon Reynolds, benefits assistant for employees with last name A-L (benefits@uvic.ca or 250-472-4581)
Romy Weatherston, benefits assistant for employees with last name M-Z (benefits@uvic.ca or 250-721-6522)
Suzanne Helston, benefits manager (shelston@uvic.ca or 250-721-8089)
Ensure you provide your full name, ID (V00) number and contact information in your email or phone messages.
Office hours: 8:30 a.m. to 4:30 p.m. Monday to Friday, Sedgewick Building, Vandekerkhove Wing (B Wing)
UVic My Page:
Pacific Blue Cross CARESnet:
File electronic claims.
Download claim forms.
View summary of coverage.
Print ID cards.
Sign up for direct deposit for paid claims.
View online statements.