Benefits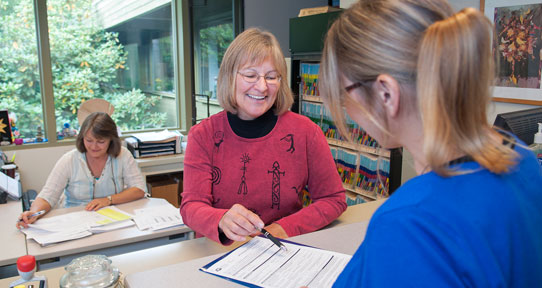 The benefits office administers all personnel benefit plans (medical, extended health, dental, life insurance and long term disability insurance) for faculty and staff.
Benefits vary significantly by employee group. Contact us for information about your individual benefits.
Our team determines eligibility and administers the enrollment process for the UVic pension plans. The pensions and investments office administers all other aspects of the pension plans.
News!
Important changes coming to Medical Services Plan of BC (MSP) January 1, 2017!
1.        There will be no premiums for children under 19 years of age or fulltime students under 25.
MSP premium rates will be determined by the number of adults on an MSP account (the MSP account holder and, if applicable, a spouse).
The MSP premium rate for two adults will be twice the amount of the single adult rate.
UVic is identifying all children or eligible student dependents and will update employee records automatically. No action is required from the employee.
2.        Premium Assistance will be available to those whose adjusted net income is up to $42,000 (an increase from the current $30,000).
Premium Assistance offers several levels of subsidies based on an individual's net income (or a couple's combined net income) for the preceding tax year.
Links to resources:
MSP FAQ  http://www2.gov.bc.ca/assets/gov/health/health-drug-coverage/medical-services-plan/msp_premium_changes_2017_qas.pdf
Medical Services Plan of BC http://www2.gov.bc.ca/gov/content/health/health-drug-coverage/msp
Canada Revenue Agency http://www.cra-arc.gc.ca/menu-eng.html
Annual Reports
NEW! Financial Roadmap - your guide to financial success! Visit planning ahead for information on financial seminars, workshops and web resources
The Benefits Office is located in Human Resources, Sedgewick Building, room B128.
Brandon Reynolds, benefits assistant for employees with last name A-L (benefits@uvic.ca or 250-472-4581)
Romy Weatherston, benefits assistant for employees with last name M-Z (benefits@uvic.ca or 250-721-6522)
Suzanne Helston, benefits manager (shelston@uvic.ca or 250-721-8089)
Ensure you provide your full name, ID (V00) number and contact information in your email or phone messages.
Office hours: 8:30 a.m. to 4:30 p.m. Monday to Friday, Sedgewick Building, Vandekerkhove Wing (B Wing)
UVic My Page:
Pacific Blue Cross CARESnet:
File electronic claims.
Download claim forms.
View summary of coverage.
Print ID cards.
Sign up for direct deposit for paid claims.
View online statements.