Benefits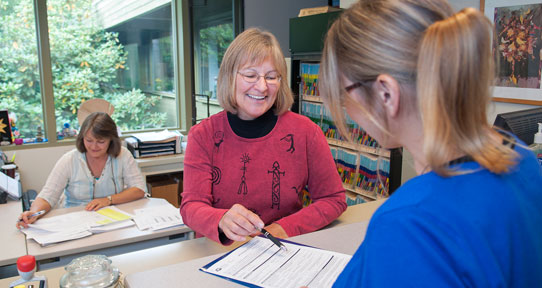 The benefits office administers all personnel benefit plans (medical, extended health, dental, life insurance and long term disability insurance) for faculty and staff.
Benefits vary significantly by employee group. Contact us for information about your individual benefits.
Our team determines eligibility and administers the enrollment process for the UVic pension plans. The pensions and investments office administers all other aspects of the pension plans.
News!
Basic group life insurance, extended health and dental premium rate adjustments effective July 1, 2015:
10% premium increase to extended health plans 1 and 3
30% premium decrease to dental care plan 3
5% premium decrease to dental care plan 5
50% premium decrease to basic group life insurance for all employee group
Refer to your benefits handbook or quick reference guide for details.
Benefits Office newsletters
Annual Reports
NEW! Financial Roadmap - your guide to financial success! Visit planning ahead for information on financial seminars, workshops and web resources

The benefits office is located in the Sedgewick Building, Vandekerkhove Wing, room B125.
Brandon Reynolds, benefits assistant (breynold@uvic.ca or 250-472-4581)
Fran McMurray, benefits assistant (franm@uvic.ca or 250-721-6522)
Suzanne Helston, benefits manager (shelston@uvic.ca or 250-721-8089)
Secure fax: 250-472-4041
Ensure you provide your full name, ID (V00) number and contact information in your email or phone messages.
Phone and email inquiries: 8:30 a.m. to 4:30 p.m. Monday to Friday.
Walk-in hours: 11:00 a.m. to 4:00 p.m. Monday to Friday.
For your convenience there is a drop box outside the benefits office door.
UVic My Page:
Pacific Blue Cross CARESnet:
File electronic claims.
Download claim forms.
View summary of coverage.
Print ID cards.
Sign up for direct deposit for paid claims.
View online statements.