Experiential learning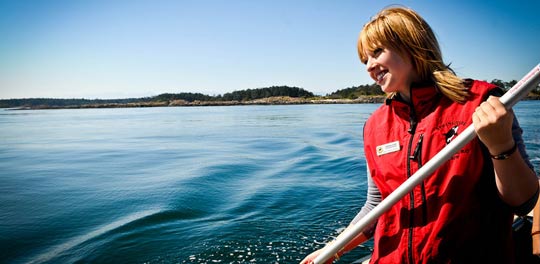 Classroom learning is just one piece of the puzzle - at UVic, students are challenged to learn in new and dynamic ways.
UVic students apply their academic knowledge in real-world environments by working for employers in Victoria and around the world. These programs link the university with employers, who are valued partners in education. Thousands of students take part in experiential learning each year, including practicum, internships and co-operative education programs.
Co-operative education (co-op)
One in four UVic students takes part in the extremely popular Co-operative Education Program, which helps them alternate academic terms with work terms and graduate with up to one year of work experience in the real world.
Island Medical Program
The Island Medical Program relies on people from the community in many ways, from patient educators to medical professionals who volunteer as physician mentors. The program also relies on volunteer patients, real people who allow medical students to interview them about their health, family and lifestyle.
Field schools
Our students wade knee-deep into research at field schools, including the Bamfield Marine Sciences Centre—one of the best facilities on the planet for coastal marine research.
The Redfish School of Change is an interactive and experiential field school for students interested in food security, ecological sustainability and social equity.