Welcome Centre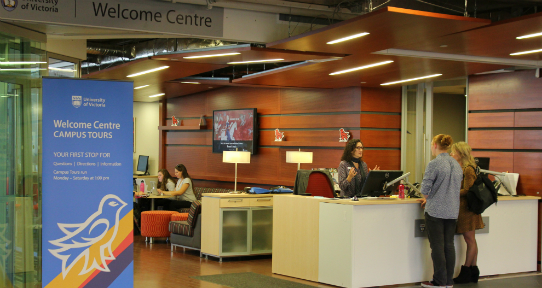 Whether you're a new student, a visitor to campus, or an alumnus, the Welcome Centre is your first point of contact in navigating the University of Victoria. It's also a great place for current members of our campus community to meet with friends, study in small groups or relax and unwind.
Located on the first floor of the University Centre, the Welcome Centre is open:
Monday-Friday from 8:30 a.m. to 4:30 p.m.
Saturday from 11:30 a.m. to 3:30 p.m.
Welcome Centre staff will make sure you're directed to the right location, service or event on campus.
Contact us
Our services
In addition to coordinating campus visits and tours, the Welcome Centre provides a variety of services to support current and future students.
Tours and visits
Our team of student tour guides conducts daily campus tours for visitors to UVic. We also coordinate visits for school groups and special guests of the university.
Course registration assistance
At the beginning of every school term, we provide guidance to students for who are registering for courses online. We can help you figure out how to use the course-registration system, but if you have specific issues or require technical support you should email or call the UVic Registration Helpline:
250-721-8142 (Monday to Friday, 8:30-4:30 p.m.)