Welcome Centre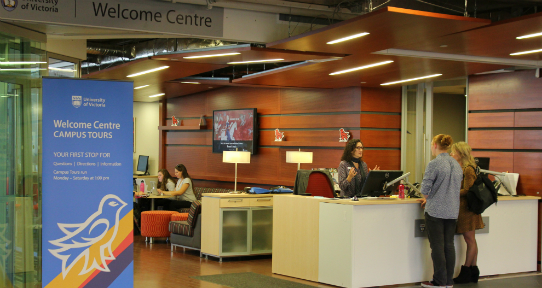 Whether you're a new student, a visitor to campus, an alumnus or a current member of the campus community, the Welcome Centre is your first point of contact in navigating the University of Victoria.
Located on the first floor of the University Centre, the Welcome Centre is open:
Monday-Friday 8:30 a.m. to 4:30 p.m.
Saturday 11:30 a.m. to 3:30 p.m.
Centre staff will make sure you're directed to the right location, service or event on campus.
An academic adviser will be on hand in the Welcome Centre to help new students with course selection and degree planning:
May 16 – September 29: Saturdays from 11:30 a.m. to 3:30 p.m. 
You must pre-book an appointment with the adviser by emailing advising@uvic.ca.
Get more information on academic advising for incoming students on the Academic Advising Centre site.
The Welcome Centre's student ambassadors will offer registration assistance for students in the Victoria area who are having trouble registering for courses online.
Assistance is available:
June 19 – July 7: Tuesdays and Thursdays from 2:30 p.m. to 5:30 p.m.
June 19 – July 7: Saturdays from 11:30 a.m. to 3:30 p.m.
August 15 – September 12: Monday through Friday from 10:00 a.m. to 3:00 p.m.
Registration support is offered on a drop-in basis; pre-registration is not required.