Campus visits & tours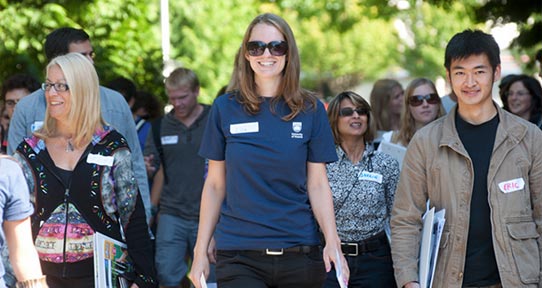 Seeing truly is believing when it comes to getting a feel for UVic and our community. Whether you're an island local or visiting from overseas, we encourage you to participate in one of our visit programs. 
If you have questions or would like more information, please contact the UVic Welcome Centre at 250-721-8949 or email tours@uvic.ca.
Tours offered:
Monday through Saturday - 1:00p.m. to 2:30p.m.
(Tours are not offered on Sundays or statutory holidays.)
Location:
All tours begin in the UVic Welcome Centre, main floor in the University Centre
The daily campus tours provide the opportunity to:
explore the campus with our experienced tour guides, who are also UVic students
visit a room in residence
hear from a recruitment officer (Monday-Friday only)
Tours offered:
Monday to Friday - on demand, subject to availability
Saturday - starting between 11:45a.m. and 2:15p.m., subject to availability
Duration:
Up to three hours
The School Visit Program is for school groups to experience life at UVic. These visits are very popular with counsellors and students.
School visits can be customized to include:
campus tour (up to 90 minutes)
question-and-answer period with a recruitment officer
presentation on career exploration or co-operative education opportunities for UVic students
student panel, discussing the "UVic experience" from the perspective of current students
Please note: School visits may be booked by counsellors or teachers, only. They must be arranged at least two weeks in advance.
Looking for something fun and exciting to add to your long weekend adventures this year? Consider an island visit to the University of Victoria (UVic), situated on Canada's stunning West Coast.
We offer special expanded campus visits on various American holidays specifically designed for American students and their families, so come visit for your holiday weekend and get a behind-the-scenes introduction to UVic. You'll have the opportunity to:
learn more about our faculties, programs and hands-on learning opportunities
talk to current American students and get the real "nitty-gritty" on everything UVic
tour the campus with one of our seasoned tour guides
experience a real university lecture with one of our professors
meet with, and ask questions of, our student recruitment team
enjoy a catered lunch and meet other students and parents from the USA
learn all about our application process, study permits and scholarships
Sessions scheduled for spring 2014 are:
Monday, May 26, 2014; 12:00-4:30p.m.
Friday, July 4, 2014; 12:00-4:30p.m.
Sessions scheduled for fall 2014 are:
Friday November 28, 2014; 12:00-4:30p.m.
Questions? Please contact Heather Young by emailing her at hay@uvic.ca.