Gordon Head - Wallace Hall (RWA)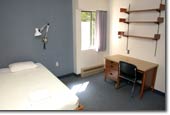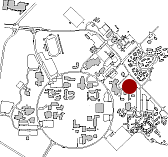 The Wallace Hall residence was built in 1978 as part of the Gordon Head residence complex. A single-student residence, Wallace Hall houses 102 students.

Robert T.D. Wallace (1902 - 1907) was a former student at Victoria High School, Victoria College, Victoria Provincial normal School and UBC. A distinguished and well-liked educator at UVic, he served as professor of mathematics, acting dean of arts and science, dean of administration, vice president, acting president (1968 - 1969) and chancellor (1973 - 1978) .
Wallace Hall is one of four Gordon Head residences. The complex is named after a 120-acre plot of farmland that was acquired by Victoria College in 1959 as the future site of its campus. The area had previously been used as the World War II Gordon Head Army Camp and as a private airfield. The first sod was turned in 1960 and today the Gordon Head area is home to the University of Victoria. The four Gordon Head Residences accomodate 404 students in single rooms.