McGill - Shirley Baker (RSB)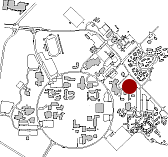 Shirley Baker hall was built in 1981 as part of the three-building McGill complex. This single-student residence houses 57 students.

Shirley Baker (1918-1995) joined UVic housing services in 1965 at a time when only women lived in student residences. She was assistant director of ancillary services when she retired in 1983.
The McGill complex was named in honour of McGill University, which was affiliated with Victoria College from 1903 to 1915. These three residences accommodate 180 students in single rooms.