Ian H. Stewart Complex (ISC)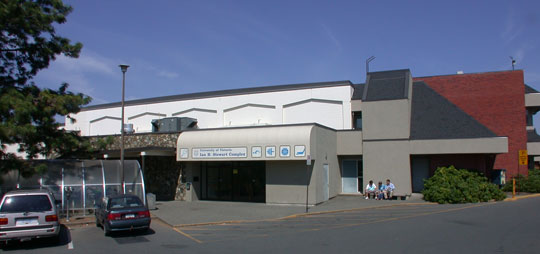 A short walk from the heart of campus, UVic's Ian Stewart Complex is a first-class recreational centre. Acquired in 1991, its facilities include an outdoor pool, tennis courts, squash and racquetball courts, an ice arena, a dance studio, physiotherapy clinic, a gym and weight room, and a service that rents camping equipment and more. Many of UVic's 30 athletics clubs are run from the Ian Stewart Complex.
ISC also houses several departments from the UVic Division of External Relations, including Alumni Services, Development, Corporate Relations and Advancement Services, in the Alumni House wing.
Ian H. Stewart was chair of UVic's board of governors when the university acquired the sports complex in 1991. A businessman and lawyer, Stewart is a keen supporter of UVic's athletics programs. The facility, originally called the Gordon Head sports complex, was renamed in his honour in 2000.