Hickman Building (HHB)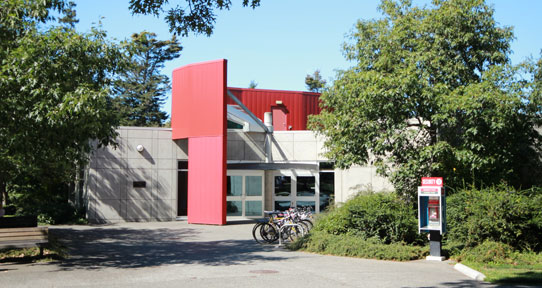 Formerly: Centre for Innovative Teaching (CIT)
The Hickman Building gives professors the opportunity to study teaching — both their own and the teaching of others. "Smart" classrooms wired for multiple closed-circuit TV cameras and remote projection systems links teachers and students in the building with other campus classrooms and beyond.
The building, completed in 1999, contains two main 200- and 75-seat classrooms, both equipped for distance education broadcasts, and has the capacity for two further 25-seat classrooms. A seminar room, configured to act as an extension of the lobby, can double as a reception area for on-site teaching conferences.

Dr. W. Harry Hickman (1909 - 1997) began his teaching career at Victoria High School in 1932 before shifting his attention to post-secondary education. Hickman became president of UVic's predecessor Victoria College and was the first acting president of UVic upon its creation in 1963. A strong believer in art and culture, Hickman founded the university art collection. He was the head of UVic's modern languages and French departments before his retirement in 1974.