Campus living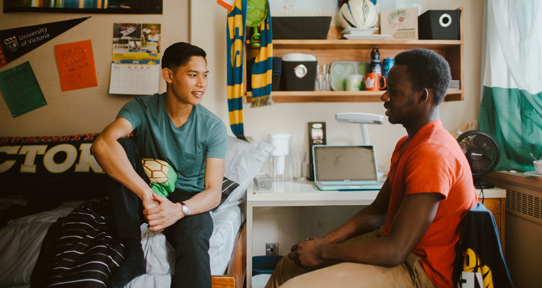 This is the best place in Canada to live, and it's even better when you've got a great place to stay and good food to eat. 
A place to call home
Living on a university campus is an experience unlike any other you'll have in your lifetime. More than 2,300 on-campus students create a close-knit community within UVic's larger university setting, and all of them walk less than 10 minutes to get from their bedroom to their classroom.
Residence life
What makes campus living so interesting and meaningful is being entrenched in the total UVic experience. Nothing matches the opportunities for friendship, fun, convenience or involvement. Plus, your campus neighbours become a built-in peer support system.
Our team of trained residence life staff will guide you through the transition of living in a new community and coordinate special programs to help you learn more about yourself and connect with others.
Family life
Students with families have different needs than most students. That's why the UVic Family Centre, located in the Family Housing complex, offers various resources and creates programs to assist students and their families adjust to the demands of balancing school work and an enriched family life.
Either on or off-campus, students can take comfort in knowing that they are in one of the safest cities in Canada. We believe in ensuring you feel supported and safe here, both inside and outside the classroom.
Help at UVic