School counsellors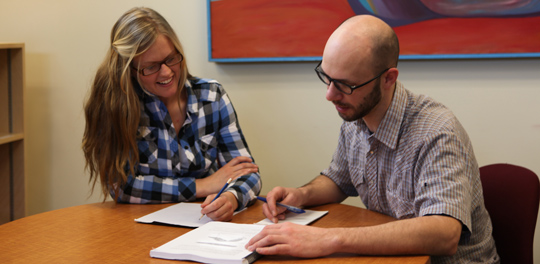 As a counsellor, your insight into the student experience is highly valued. Our mission is to keep in close touch and inform you about the university's latest developments and opportunities. Likewise, we want to hear from you how to best meet students' needs.
If you'd like to book an individual appointment with one of our Recruitment Officers, please email recruits@uvic.ca or call us at 250-721-8121.
We send out a monthly email specifically for counsellors between September and June, covering changes that might impact your students. Sign up today (make sure to include your name, email, school name, province/state and country). Please use "e-bulletin sign up" as the subject line.
Individual tours are available Monday through Saturday at 1 pm. Have your students visit the campus tours page for more information.
School visits
We also offer a school visit program for school groups from grades 9, 10, 11 and 12 to experience life at UVic. These visits can take around three hours and can be customized to include:
campus tour (up to 90 minutes)
question and answer period with a recruitment/admission officer
presentation on co-operative education opportunities for students
student panel where current UVic students will share their experiences
School visits may be booked online by counsellors or teachers only, and must be arranged a minimum of two weeks in advance.
Our team of Student Recruitment Officers will be traveling around North America and to select countries to meet with students, parents and counsellors who are interested in learning more about what UVic has to offer. Check our list of upcoming events to see if we'll be in your area:
Spring 2014 - Canadian travel schedule:
| | | |
| --- | --- | --- |
| Dates | Location | Contact |
| Feb 3-19 | Ontario | Remy |
| Feb 3-7 | Lower Mainland | Tracey |
| Feb 3-7 | Vancouver Island | Hannah |
| Feb 10-14 | Okanagan | Claire |
| Feb 17-20 | Lower Mainland | Tracey |
| Feb 17-20 | Lower Mainland and Vancouver Island (colleges and universities) | Brian |
| Feb 24-27 | Calgary | Lauren |
| Feb 24-28 | Vancouver Island | Hannah |
| Apr 7-11 | Vancouver Island | Hannah |
| Apr 14-17 | Lower Mainland | Tracey |
| Apr 14-17 | Vancouver Island | Hannah |
Spring 2014 - International travel schedule:
| | | |
| --- | --- | --- |
| Dates | Location | Contact |
| Jan 27-31 | India | Sue |
| Feb 11-13 | Seattle | Heather |
| Feb 12-April 12 | China | Qi |
| Feb 22-Mar 2 | Mexico | Heather |
| March 1-6 | Denmark | Sue |
| Mar 17-27 | Korea | Qi |
| Mar 28-31 | Vietnam | Qi |
| Apr 1-11 | Oslo, Copenhagen and Germany | Angela |
| Apr 7-10 | Hawaii/NACAC | Heather |
| Apr 22-May 1 | Southern California/NACAC | Angela |
| Apr 25-29 | Seattle and Portland/PNACAC | Sue |
| Apr 30-May 2 | Santa Fe | Heather |
| May 3-10 | Northern California/WACAC | Heather |