Future faculty and librarians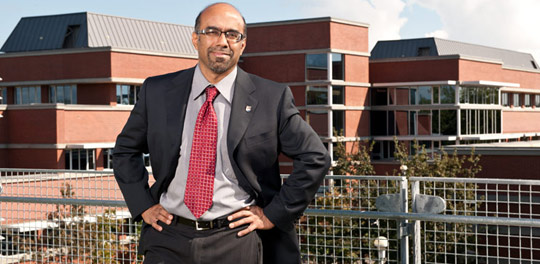 As a faculty member or librarian at the University of Victoria, you'll be engaged in building the future in a dynamic and diverse community of scholars.
You'll have opportunities to collaborate with other outstanding researchers and teachers in an innovative, supportive and collegial environment.
Visit our Opportunities for faculty and librarians site to learn more about working at UVic, getting settled and life in Victoria.
The Office of Research Services supports the innovative and leading edge research being conducted at the University of Victoria by our world class researchers.
ORS staff provide UVic faculty with advice about research opportunities and assistance with research proposals.
The University of Victoria strategic plan emphasizes providing support to faculty in the "development of excellence in teaching" (Objective 12a).
The Learning and Teaching Centre (LTC) offers a wide array of supports for teaching and learning to faculty, sessional instructors and teaching assistants, through one-on-one consultations, workshops, seminars and conferences as well as department and program curriculum design assistance.
"UVic is an intellectually vibrant place where both undergraduate and graduate students have ready access to some of the most dedicated and productive scholars - and the most inspiring teachers - across a wide variety of fields."
Read the entire message from the president.
The University of Victoria is recognized annually as one of Canada's top universities by external surveys and UVic students alike.
UVic in the rankings, April 2014
Times Higher Education
The 2014 Times Higher Education (THE) World University Rankings place UVic on its elite Top 200 list, among the top one per cent of universities around the world. Ranked at #173 globally, UVic has been the top-ranked university in Canada without a medical school since 2010.
Only eight Canadian universities were ranked in the Top 200. In early 2013, THE also ranked UVic first in Canada and number 20 globally among universities less than 50 years old.
The THE global ranking is the only system that includes a section dedicated to the teaching and learning environment, including the first-ever global survey of institutions' teaching reputation.
For more information visit the Times Higher Education website.
Maclean's
In 2013, UVic was ranked as the top Canadian comprehensive university by Maclean's magazine. This is the seventh consecutive year that UVic has been ranked either first or second in this category. The university's commitment to excellence in all areas is evident in the results, with UVic ranked in the top three in 9 of 12 key performance indicators used to create the Maclean's annual report.
For more information on the rankings visit the Maclean's website.
Re$earch Infosource
In 2013, for the 11th consecutive year, UVic was named a Research University of the Year in Canada by Re$earch Infosource. This designation indicates that UVic "demonstrates superior achievement in earning research income and in publishing research in leading scientific journals."
In the Re$earch Infosource 2010 decade-in-review summary of Canada's research universities, UVic outscored all other comprehensive universities in two out of three measures of research performance from 1999-2009.
For more information visit the Re$earch Infosource website.
Leiden University rankings
The 2013 Leiden University rankings put UVic ahead of all other Canadian universities in the proportion of internationally co-authored research, based on scientific publications issued from 2008-2011. UVic also retains its place in the top one per cent of universities in the world and among the top-ranked in Canada for scientific impact.
The Leiden rankings use multi-year Web of Science publication and citation data in the sciences, social sciences, arts and humanities to measure the scientific performance of 500 major universities worldwide.
More information about UVic's citation impact is available at the Leiden ranking website.
QS World University Rankings
The 2014 QS World University Rankings by Subject also recognize UVic's leadership in a broad mix of academic fields. UVic is identified in the top 200 institutions globally for research in six QS subject areas: English language and literature, earth and marine sciences, geography, law, physics and astronomy, and psychology.
The QS subject ranking studied nearly 3,000 of the world's top universities—approximately 15 per cent of all institutions—and ranked fewer than 700 of them for statistically significant subject-specific leadership.
The QS rankings also suggest that UVic's rising international reputation stems from extraordinary programs across the institution. The Department of English ranked in the top 100. In total, the university is ranked for world-class performance in 22 of 30 subject areas.
Globe and Mail
In the 2013 Globe and Mail's "Canadian University Report" on undergraduate student satisfaction with their university experience, students ranked the University of Victoria highly for its facilities, commitment to sustainability, campus atmosphere and libraries.
The university received an overall B+ for student satisfaction. UVic received an A for its buildings and facilities; an A- for libraries, environmental commitment, campus atmosphere and city satisfaction; and a B+ for quality of teaching and learning, class size, student/faculty interaction, recreation and athletics, information technology, career preparation, co-op/internships and reputation with employers.
For more information visit the report on the Globe and Mail website.
The University of Victoria is proud and grateful to benefit from significant support in the form of public funding, student tuition and private contributions. We hold ourselves to the highest standards of stewardship of these resources and our audited financial statements are publicly available.
To ensure programming of the highest quality for our students, our faculty are evaluated annually, through students' teaching evaluations as well as by their department chair and dean. Departments are also subject to vigorous external review every five to seven years.
In addition, there are many ways in which the university provides a public accounting of its accomplishments and progress in fulfilling its mission. We invite you to share our pride in following this progress, much of which is documented on the Office of the President's website.