Tours and visits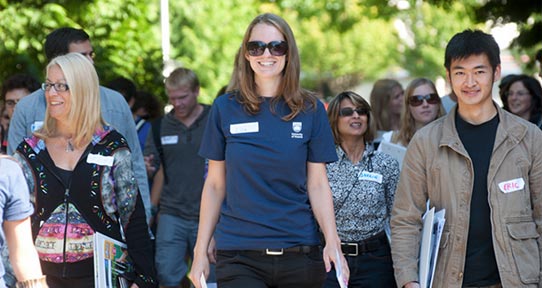 Seeing truly is believing when it comes to getting a feel for UVic and our community. Whether you're an island local or visiting from overseas, we encourage you to check out what's going on at UVic.
If you have questions or would like more information, please contact the UVic Welcome Centre.
Tours offered:
Monday through Saturday, starting at 1:00 p.m.
(Tours are not offered on Sundays or statutory holidays.)
Location:
All tours begin and end at the UVic Welcome Centre, located on the main floor of the University Centre
Our Welcome Centre delivers campus tours led by current students who will talk about the services UVic offers for students and show you some of the best spots on campus, including residence rooms, classrooms, athletics facilities and dining locations. Tours are approximately 70-80 minutes in length.
From Monday to Friday, recruitment representatives will be available to meet with future students following completion of the tours to answer questions regarding academic programs and admission requirements. Saturday tours may include these information sessions, subject to the availability of recruiters.
If you're thinking about applying to UVic as an undergraduate student, join us for a Discover Uvic event to get a deeper look into life at UVic
If you're a teacher or school counsellor and want to bring a class of students to UVic, please request a school tour.
High school teachers and counsellors can arrange customized tours for groups of students, including:
campus tours (up to 90 minutes)
question-and-answer periods with recruitment staff (up to 30 minutes)
student panels, discussing the "UVic experience" from the perspective of current students (up to 30 minutes)
School visits can be accommodated throughout the year from Monday to Friday (some blackout dates apply) and may last up to 2.5 hours.
Teachers and counsellors must arrange these visits at least two weeks in advance, and are encouraged to do so as soon as possible in order to book their preferred dates. All tour bookings are subject to availability.
UVic hosts our on-campus Discover UVic events for prospective undergraduate students in November and March. You'll have the chance to speak with recruiters, learn about our programs and services, and meet with other future UVic students just like yourself.
---
Take a virtual tour of UVic