Graduating students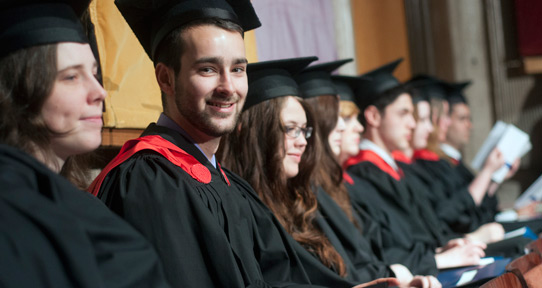 To graduate, you must submit an application for a specific convocation (Spring or Fall), which will initiate a review of your eligibility to graduate. Applications must be submitted by:
July 15 - fall convocation
December 15 - spring convocation
Graduation information
Refer to the UVic academic calendar to ensure you have the proper requirements to graduate:
All University of Victoria degrees include the Faculty and the Degree designation.The degree parchment shows the Faculty and the Degree, Honours, With Distinction and Co-operative Education (as noted below).  It does not include details of declared programs such as Major, Minor, Concentration, Specialization, Emphasis or Option.
With distinction
"With distinction" will be added below the degree  if you achieved the GPA required by the Faculty to receive the standing "With Distinction" at graduation
Honours
"(Honours)" will be added after the degree if you had declared and completed an Honours program
Co-operative education
"Co-operative education" will be added below the degree if you completed a co-operative education program
Examples
BACHELOR OF ARTS
BACHELOR OF ARTS
WITH DISTINCTION
BACHELOR OF ARTS (HONOURS)
BACHELOR OF ARTS (HONOURS)
WITH DISTINCTION
BACHELOR OF SCIENCE
WITH DISTINCTION
CO-OPERATIVE EDUCATION
If you require documentation that shows the details of your declared program, you can order an official transcript, degree completion letter or certification of degree completion.
Your UVic student record name should reflect your full legal name and will appear on your official transcript and degree parchment.
For these purposes, your legal name is the name you were assigned at birth, or assumed through marriage or name change.  For non-Canadian citizens, the legal name is the one found on your passport or immigration documents.
To make a major change to your student record name, submit the personal information change form.   Examples of major changes include:
You want to add a name to your student record name
You want to change part of your name
You applied to UVic using a preferred name and want it changed to your legal name
 You may:
Substitute your first or middle name with the initial
Choose not to display your middle name
You may not:
Reorder your names
Include brackets in your name
Use a preferred name instead of your legal name

You will be required to provide one of the following supporting documents:
Birth certificate
Certificate of change of name
Driver's license
Marriage certificate
Passport or immigration document (e.g. permanent resident or Canadian citizenship card)
You may make minor changes to your student record name when you submit your application for graduation.  Examples of minor changes include:
Replace your first or middle name with an initial (e.g. John Adam Doe becomes John A. Doe)
Suppress your middle name from being displayed
Add an accent to your name (most accents can be accommodated on the degree parchment, but accents will not appear on your official transcript)
Note: Your student record and official transcript name will be also updated to reflect the same name on your degree parchment.
Although, traditionally, you would receive your parchment at the convocation ceremony, there are alternate ways to receive it.

Information regarding attendance for Convocation, tickets, regalia rental and photographs will be sent to all graduating students approximately 6 weeks before the ceremonies. For more information, visit the Ceremonies and Events office, or follow the specific links below:
Graduation documentation
Your graduation notation will not appear on your official transcript until the day after Senate meets to approve degrees (approximately third week of May for Spring Convocation and third week of October for Fall Convocation).
The certificate is usually requested by students who are applying for overseas employment. It is a formal document that bears the University seal and will contain your name, degree and date awarded.

Undergraduate
Request an undergraduate degree completion letter:
Graduate
Request a graduate degree completion letter:
Replacement
If your degree has been lost, damaged, you have had a name change or you are requesting a Juris Doctor replacement degree, complete the replacement degree request form.
Lost degree
If you are unable to return the original degree, also complete the lost degree declaration form.
The degree is a legal document. If you are required to provide a certified true and correct copy of your degree ($15), the original degree must be brought into the Undergraduate Records office, main floor, University Centre.
You will need to complete the certified copy of degree form.